The original manga author Monkey Punch serves as general director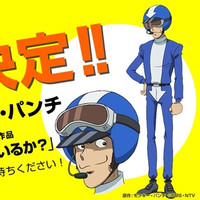 A memorial anime episode "Lupin wa Imamo Moeteiruka?/Is Lupin still burning?" is now in the works to celebrate the 50th anniversary of Monkey Punch's Lupin the Third manga series. The news was revealed in the last broadcast of the "Lupin the Third Best Selection" special program on Nihon TV to have aired the top 24 anime episodes selected by the fans' votes since July. The title of the episode is obviously taken from that of the first epsiode of the TV anime first season aired in October 1971, "Lupin wa Moeteiruka...?!/"Is Lupin Burning...?!" No release/broadcast schedule is availabe at the moment.
The long-running manga series started its first serialization in Futabasha's Weekly Manga Action in August 1967, and the original manga author serves as general director for the memorial anime produced by TMS Entertainment. The 80-year-old manga artist previously directed the 1996 anime feature film Lupin III: Dead or Alive.
Monky Punch posted his comment on the franchise's official website: "Thank you for supporting 'Lupin
the Third' for 50 years. In this memorial anime, we expressed the contents that were filled with the past
'Lupin the Third' and also included new challenges in animation. I would be glad if you enjoy watching it.
Please continue to support 'Lupin the Third'!"
『ルパン三世』原作誕生50周年を締めくくる記念作品として、「ルパンは今も燃えているか?」の制作が決定致しました!原作者のモンキー・パンチが自ら総監督を務める本作に御期待ください。総監督コメントはこちら https://t.co/CKpDL4oa8Y pic.twitter.com/UIQLbzbOlb

— アニメ「ルパン三世」公式 (@lupin_anime) 2017年12月19日
---
"Lupin the Third Best Selection" Anime Episode Top 24
1. "Farewell My Beloved Lupin" (2nd season 155th episode)
2. "Wings of Death - Albatross" (2nd season 145th episode)
3. "The Coming of Goemon the 13th" (1st season 5th episode)
4. "One Chance for a Prison Break" (1st season 4th episode)
5. "Is Lupin Burning...?!" (1st season 1st episode)
6. "The Combat Magnum Scattered in the Wasteland" (2nd season 99th episode)
7. "Goemon's Close Call" (2nd season 112th episode)
8. "Lupin the Third's Gallant Appearance" (2nd season 1st episode)
9. "Goemon Daydream" (3rd season 5th episode)
10. "Pray for the Repose of Your Soul" (3rd season 24th episode)
11. "The Day the Old Man Died" (2nd season 98th episode)
12. "Tutankhamen's 3000-Year-Old Curse" (2nd season 7th episode)
13. "The Target Is 555 Meters" (2nd season 148th episode)
14. "The Man They Called a Magician" (1st season 2nd episode)
15. "Lupin Dies Twice" (2nd season 32nd episode)
16. "The Gold Is Beckoning Lupin" (3rd season 1st episode)
17. "Beware the Time Machine!" (1st season 13th episode)
18. "The Magnificent Team-Play Operation" (2nd season 137th episode)
19. "Kill the Atomic Submarine Ivanov" (3rd season 50th episode)
20. "Pops Boils over with Rage" (3rd season 37th episode)
21. "The Woman the Old Man Fell in Love With" (2nd season 69th episode)
22. "A Rose and a Pistol" (2nd season 26th episode)
23. "Our Papa Is a Thief" (3rd season 44th episode)
24. "Farewell, My Beloved Witch" (1st season 3rd episode)
Watch the "Lupin The Third" TV series on Crunchyroll:
---
Source: "Lupin The Third" anime official website
©TMS ©Monky Punch/TMS・NTV