The Shojo Beat label will introduce the series in August 2018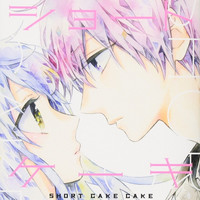 Viz has announced the addition of Suu Morishta's 2015 7-volume ongoing manga Shortcake Cake from magazine Margaret. Their Shojo Beat lablel will introduce the series in August 2018.
Announcement: Shortcake Cake, a super sweet Shojo Beat manga, is set for release August 2018. pic.twitter.com/oe4kGInijA

— VIZ Media (@VIZMedia) December 19, 2017
They describe the manga
Shortcake Cake by Suu Morishita
Ten Serizawa has a two-hour commute through the mountains to high school every day, so she can't spend much time hanging out with her friends in the afternoon. She decides to move into the local boardinghouse, where one of her friends and three other boys are living. Ten's friends consider her to be as oblivious as a rock when it comes to noticing boys and falling in love, but will she be able to keep her calm and steady heart in her new living situation?
Coming in August 2018
------
Follow on Twitter at @aicnanime