"Shin Godzilla" becomes the top-selling Japanese film DVD/Blu-ray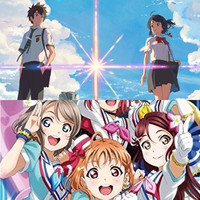 On December 23, Oricon, a data compiling company specializing in providing data for the Japanese music/book industry, announced "The 19th Oricon Yearly Visual Ranking 2017," which was based the actual sales data aggregated from 20,940 stores across Japan between December 12, 2016 and December 10, 2017. The top-selling DVD/Blu-ray in all genre was "ARASHI LIVE TOUR 2016-2017 Are You Happy?" that sold 379,000 DVDs and 375,000 Blu-rays.
As you can guess, the top-selling DVD and Blu-ray in the anime feature film category was Makoto Shinkai's mega hit film Kimi no Na wa./Your Name. After becoming the second top-grossing film in the history of Japanese cinema, it also sold a record-braking 638,000 discs in its first week of release in July.
Meanwhile, the title dominates the TV anime/tokusatsu category was the special limited edition of the
seventh volume of the Love Live! Sunshine!! TV anime first season. The disc was released on March 24
and sold an impressive 65,036 units in the first half of this year.
Shin Godzilla became the king of both DVD and Blu-ray sales rankings for Japanese film.
And the top-selling DVD and Blu-ray of foreign film was Resident Evil: The Final Chapter and Beauty and the Beast.
Source: Oricon News