New ED song "Otona ÷6 × Kodomo × 6" will be revealed on January 8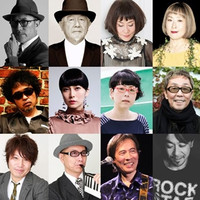 The official Japanese website for the Osomatsu-san/Mr. Osomatsu TV anime series announced today that its ongoing second season's second ED song "Otona ÷6 × Kodomo × 6" is performed by "The Osomatsu-sans with the Matsuno Six Brothers," consisting of 16 Japanese artists and the six voice actors of the Matsuno brothers. 65-year-old acclaimed singer/drummer Yukihiro Takahashi served as composer/producer and joined the recording as one of the singers. Takahashi is well known for his activities in internationally famous Japanese techno unit YMO (Yellow Magic Orchestra), and other two members of the unit, Haruomi Hosono and Ryuichi Sakamoto also joined the session.
Originally, "The Osomatsu-sans" was a special unit formed just for one day in the outdoor summer music festival "World Happiness" in 2013, for which Takahashi has served as curator since its first event in 2008. "Otona ÷6 × Kodomo × 6" is the unit's first original song written by Keiichi Suzuki (Moon
Riders) and composed/produced by Takahashi. As with the second season's first ED song "Let' Go!
Muttsu Go! ~Rokushoku no Niji~," the main six voice actors of the TV anime again joined the recording
to sing the chorus part. The new ED song will be revealed in the first episode in 2018 to be aired on
January 8, and its CD single will be released on February 28.
The Osomatsu-sans members:
Yukihiro Takahashi (YMO, Sadistic Mika Band)
Haruomi Hosono (YMO, Happy End)
Ryuichi Sakamoto (YMO)
Chu Kosaka
Akiko Yano
Tamio Okuda
Keiichi Suzuki
Taeko Onuki
Shigeru Suzuki
Katsuya Kobayashi
Masatou Ibu
Rei Ohara
Yoshiyuki Sahashi
Dr.kyOn
Keigo Oyamada
Tomohiko Gondou
"Mr. Osomatsu" six main voice actors:
Takahiro Sakurai (Osomatsu Matsuno)
Yuichi Nakamura (Karamatsu Matsuno)
Hiroshi Kamiya (Choromatsu Matsuno)
Jun Fukuyama (Ichimatsu Matsuno)
Daisuke Ono (Jyushimatsu Matsuno)
Miyu Irino (Todomatsu Matsuno)
\第2クール新EDが『大人÷6×子供×6 』に決定!/
高橋幸宏をはじめ、超豪華アーティストが「The おそ松さんズ」として集結!6つ子も松野家6兄弟として参加♪来年1月からの第2クールでぜひお聴き逃しなく♪
アーティスト陣&櫻井孝宏さんからのコメントはこちら⇒https://t.co/EWHl2V7wup#おそ松さん pic.twitter.com/bfVdWZxQRE

— 「おそ松さん」公式アカウント (@osomatsu_PR) 2017年12月26日
Source: "Mr. Osomatsu" TV anime Japanese official website, Twitter
© Fujio Akatsuka/Osomatsu-san production Committee