13-episode first season is now available on Crunchyroll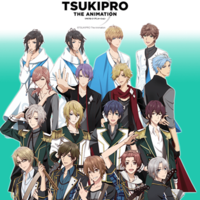 After the final 13th episode "TSUKIPRO LIVE 2017 WINTER CARNIVAL" of the TV anime TSUKIPRO THE ANIMATION was aired in Japan last night, a production of its sequel was announced in the episode's endcard illustration, as well as on its official Japanese website and Twitter. How and when it will be distributed will be announced at a later date.
The 13th episode's endcard illustration with the announcement for the sequel.
【エンドカード公開】TSUKIPRO THE ANIMATION 第13話「TSUKIPRO LIVE 2017 WINTER CARNIVAL」エンドカードを、志島とひろさん・沙月ゆうさんにご担当いただきました。
『プロアニ』続編もお楽しみに!https://t.co/Ubv1le7lNu #プロアニ pic.twitter.com/7XYKr5RiEs

— プロアニ公式 (@tsukipro_anime) 2017年12月28日
---
Following Tsukiuta The Animation in 2016, the second TV anime inspired by the music/drama CD series
featuring male idol characters who belong to the fictional Tsukino Talent Production premiered in Japan
on October 4 of this year and ran for 13 epsiodes. It has been available to Crunchyroll members worldwide
except for Asia, Germany, Austria, Liechtenstein, Luxembourg and German speaking parts of Switzerland
and Italy.
"TSUKIPRO THE ANIMATION" key visual
Source: "TSUKIPRO THE ANIMATION" official website, Twitter
(C)TSUKIPRO (C)PROANI