Two new titles for the Winter 2018 season!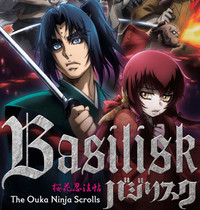 Hark! The winter anime season on Crunchyroll is getting an upgrade in the shadow warriors and swordplay department as Basilisk: The Ouka Ninja Scrolls is set to begin streaming soon! Also! Read on for more details on Crunchyroll's plans for the much-anticipated Cardcaptor Sakura: Clear Card stream!
--
Cardcaptor Sakura: Clear Card
Starts: 1/6 at 5:00PM PST (Saturday)
Regions: USA, Canada, UK, Ireland, Australia, New Zealand, Netherlands, Nordics, Central and South America
To be simuldubbed by Funimation
Guided by the Key of Dreams, Sakura embarks on a new adventure! Sakura had managed to capture all of the Clow Cards which could bring disaster to the world and turned them into her own Sakura Cards. Now it's spring. With cherry trees in full blossom, Sakura is just entering middle school. Her beloved Syaoran has returned from Hong Kong, and Sakura was thrilled to be going to school with him again. But one night, something strange happens to her Cards... On top of that, strange things keep happening in Tomoeda. Guided by the Key she encountered in her dream, Sakura starts collecting Cards again. And then, a new girl transfer into her class...
--
Basilisk: The Ouka Ninja Scrolls
Starts: 1/8 at 9:00AM PST (Monday)
Regions: Worldwide except Asia and MENA
To be simuldubbed by Funimation
The battle for succession that continued for three generations of shogun in the Keichou era culminated in a gruesome battle of ninja arts between the Kouga and Iga clans. Amidst a rain of flower petals, a man and woman who had decided to live for love were separated once again, beautiful in their transience.
However, it is said that by the hand of Hattori Hanzo's adopted son, Kyouhachirou, these two flower petals, whether temporarily or permanently, were given life again and left two mementos behind. These children, born with a destiny of their own, were called Kouga Hachirou and Iga Hibiki. The former had eyes like his father's, and the latter had eyes like her mother's.
It is now the Kan'ei era, and the land is at peace. As ninjas begin to disappear into the shadows after being deemed unnecessary, The Kouga and Iga clans ask a favor of Hachirou and Hibiki in hopes of reinforcing their foundations.
---
Patrick Macias is the Original Story author of the URAHARA anime, now streaming on Crunchyroll.