Both series begin airing this week!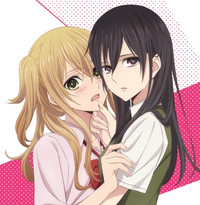 Both previously announced as part of Crunchyroll's winter 2018 lineup, today we have more info for you on plans for "citrus" (based on Saburouta's popular yuri manga) and "Katana Maidens ~ Toji No Miko" (an original anime produced by Genco and animated by Studio Gokumi) including launch dates and times! Read on for more info!
---
citrus
Starts: 1/6 (Saturday) at 8:00AM PST
Regions: Worldwide except Asia
To be simuldubbed by Funimation
Yuzu, a high school gyaru who hasn't experienced her first love yet, transfers to an all-girls school after her mother remarries. She's beyond upset that she can't land a boyfriend at her new school. Then, on her first day, she meets the beautiful black-haired student council president Mei in the worst way possible. What's more, she later finds out that Mei is her new step-sister, and they'll be living under the same roof! And so the love affair between two polar opposite high school girls who find themselves drawn to one another begins!
---
Katana Maidens ~ Toji No Miko
Starts: 1/5 (Friday) at 7:00AM PST
Regions: Worldwide except Asia
To be simuldubbed by Funimation
Since the ancient times, the Kannagi priestesses have used their swords, or Okatana, to exorcise the creatures known as Aratama that brought chaos upon the world of man. These maidens were known as Tojis. They are a special task force within the police. They are allowed to have their Okatana on their person because they are government officials, but they mostly consist of middle school and high school girls who go to one of five training schools throughout the country. Though they mostly live normal school lives, if they are given a mission, they take their Okatana and unleash their powers, fighting to protect the people. This spring, the top Tojis from five schools across the country have been gathered for a customary tournament where they will use their abilities and fight for the top position. As the many Tojis trained and prepared for the upcoming tournament, there was one girl who was even more determined than the others on improving her swordsmanship. What lies before the end of her Okatana?
---
Patrick Macias is the Original Story author of the URAHARA anime, now streaming on Crunchyroll.