A total of 41,745 votes were cast for 48 titles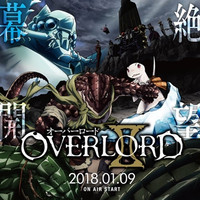 Following the previous one by Kadokawa group company GzBrain posted last month, the largest Japanese mobile phone operator NTT Docomo also revealed the result of its own popularity ranking for the new TV anime titles that will premiere in this winter 2018 season. The online voting was conducted with the users of the company's anime streaming service dAnime Store between Decemner 25 and 31, 2017. The number of total votes was 47,145 (voting for multiple titles was allowed). See the ranking for this winter's 48 titles below.
1. "Overlord II" (January 9) - 2,687 votes
【キービジュアル&新PV解禁!】いよいよ来月に放送が迫った「オーバーロードⅡ」キービジュアルと新PVをアップしました!公式サイトもリニューアル!⇒https://t.co/tWAiKFcvmx
2期はヤバイです!攻めてます!ぜひその目でご確認ください!!#overlord_anime pic.twitter.com/1fmFK0mDsA

— オーバーロード/TVアニメ公式 (@over_lord_anime) 2017年12月17日
2. "Cardcaptor Sakura: Clear Card" (January 7) - 2,403
☆新キービジュアル解禁☆「カードキャプターさくら クリアカード編」は2018年1月7日(日)よりNHK BSプレミアムにて毎週日曜朝7:30~放送スタート!(再放送:1月12日(金)よりNHK BSプレミアムにて毎週金曜夜11:45~) #ccsakura https://t.co/8nroId3OXP pic.twitter.com/cofRym0Jdm

— カードキャプターさくら(公式) (@ccsakura_info) 2017年11月21日
3. "The Seven Deadly Sins: Revival of the Commandments"
(January 6: "Prologue," January 13: The 1st episode) - 2,288
「七つの大罪 戒めの復活」新ビジュアルを解禁しました! 公式サイトもリニューアル!ぜひチェックしてくださいね!https://t.co/em5D3wT9FI #七つの大罪 pic.twitter.com/ek5MJAB0HL

— TVアニメ「七つの大罪」 (@7_taizai) 2017年10月7日
4. "The Disastrous Life of Saiki K." 2nd season (January 17) - 2,011
放送日χ(解)禁!アニメ「斉木楠雄のΨ難」第2期2018年1月16日(火)よりテレビ東京ほかで放送です!前週1月9日(火)には放送直前特別番組を放送するので、こちらもお楽しみに!第2期なので、メインビジュアルも男子、女子2の2つ作っちゃいました![SP] https://t.co/LyXnOIuace #斉Ψ #斉木楠雄のΨ難 pic.twitter.com/PS47rF2W2Y

— アニメ「斉木楠雄のΨ難」公式アカウント (@saikikusuo_PR) 2017年12月4日
5. "Karakai Jouzu no Takagi-san" (January 8) - 1,824
【キービジュアル第2弾!】宣伝担当Mです。キービジュアル第2弾も公開になりました!高木さんと西片くんの、通学路でのからかいのやり取りを描いたビジュアルです!キービジュアル公開に伴い、公式サイトもリニューアル!
公式サイト→ https://t.co/C24kFFbhpB#高木さんめ pic.twitter.com/u4UqXKwG1N

— TVアニメ『からかい上手の高木さん』公式 (@takagi3_anime) 2017年12月8日
6. "Dagashi Kashi 2" (January 11) - 1,775
7. "Fate/EXTRA Last Encore" (January 27) - 1,668
8. "Gintama: Shirogene no Tamashii-hen" (January 7) - 1,455
9. "Death March to the Parallel World Rhapsody" (January 11) - 1,439
10. "Yowamushi Pedal Glory Line" (January 8) - 1,432
11. "Zoku Touken Ranbu -Hanamaru-" (January 7) - 1,400
12. "Ryuo no Oshioto!" (January 8) - 1,364
13. "Violet Evergarden" (January 11) - 1,140
14. "Koi wa Ameagari no youni" (January 11) - 1,117
15. "Ramen Daisuki Koizumi-san" (January 4) - 1,111
16. "Pop Team Epic" (January 6) - 1,058
17. "Gakuen Babysitters" (January 7) - 1,008
18. "IDOLiSH7" (January 7) - 881
18. "Hakyu Hoshin Engi" (January 12) - 881
20. "Laid-Back Camp" (January 4) - 791
21. "Basilisk: The Ouka Ninja Scrolls" (January 8) - 775
22. "Slow Start" (January 6) - 766
23. "A Place Further Than The Universe" (January 2) - 743
24. "Katana Maidens ~ Toji No Miko" (January 5) - 736
25. "Sanrio Danshi" (January 6) - 719
26. "How to keep a mummy" (January 11) - 681
27. "Record of Grancrest War" (January 5) - 675
28. "DARLING in the FRANXX" (January 13) - 661
29. "citrus" (January 6) - 635
30. "Hakata Tonkotsu Ramens" (January 12) - 613
31. "Takunomi." (January 11) - 578
32. "25-sai no Joshikousei" (January 7) - 571
33. "Dame x Prince Anime Caravan" (January 10) - 430
34. "Märchen Mädchen" (January 11) - 374
35. "Mitsuboshi Colors" (January 7) - 356
36. "Hakumei to Mikochi" (January 12) - 334
37. "The Silver Guardian 2nd Season" (January 13) - 323
38. "Working Buddies!" (January 5) - 294
39. "Kokkoku" (January 7) - 286
40. "Ito Junji Collection" (January 7) - 261
41. "Kaiju Girls 2nd Season" (January 9) - 260
42. "BEATLESS" (January 12) - 257
43. "Killing Bites" (January 12) - 237
44. "Shinkansen Henkei Robo Shinkalion" (January 6) - 141
45. "Hitori no Shita: The Outcast 2nd Season" (January 9) - 120
46. "Mameneko" (January 8) - 115
47. "gdgd men's party" (January 8) - 53
48. "Pochitto Hatsumei Pikachin-Kit" (January 6) - 18
---
Source: Docomo Anime Store press release