Junichi Sato (Sailor Moon, Ojamajo Doremi) co-serves as series director with Akifumi Zako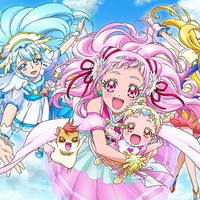 The official website for Toei Animation's next 15th PreCure TV series Hugtto! PreCure announced its five main voice cast, main staff members, and OP/ED theme song artists. The highly-anticipated new series is set to premiere in Japan on February 4, after the ongoing 14th series Kirakira PreCure a la Mode.
Acclaimed director Junichi Sato, best known for his directorial works for Pretty Guardian Sailor Moon, Ojamajo Doremi, and Sergeant Frog, joins the PreCure series for the first time. He co-serves as series director alongside Akifumi Zako, who was attached with the 6th series Fresh PreCure! (2009-2010). Toshie Kawamura, the character designer of the 4th series Yes! PreCure 5 (2007-2008), its sequel Yes! PreCure 5 GoGo! (2008-2009), and the 9th series Smile PreCure! (2012-2013), once again returns to the franchise.
The OP theme song "We can!! Hugtto! PreCure" is sung by 28-year-old Kanako Miyamoto. No need to
explain to the PreCure fans, she is the singer of the four ED songs for Yes! PreCure 5/Yes! PreCure 5
GoGo! and the two ED songs for Kirakira PreCure a la Mode. This is the first time for her to perform
the OP song for the PreCure TV series. And the ED song "Hugtto! Mirai Dreamer" is performed by the
three main PreCure voice actresses: Rie Hikisaka (Hana Nono/Cure Yell), Rina Honizumi (Saaya Yakushiji/
Cure Ange), and Yui Ogura (Homare Kagayaki/Cure Étoile).
Main Voice Cast:
Hana Nono/Cure Yell: Rie Hikisaka (Mary Jane in Princess Principal)
Saaya Yakushiji/Cure Ange: Rina Honizumi (Nano Saikawa in Omiai Aite wa Oshiego, Tsuyoki na, Mondaiji.)
Homare Kagayaki/Cure Étoile: Yui Ogura (Kokona Aoba in Encouragement of Climb)
Hagutan: Konomi Tada (Karina Sakaguchi in Girls und Panzer)
Harryham Harry: Junko Noda (Tashigi in One Piece)
【HUGっと!プリキュア新情報】
キャスト発表!
キュアエール:引坂理絵
キュアアンジュ:本泉莉奈
キュアエトワール:小倉唯
「HUGっと!プリキュア 」2月4日(日)スタート!お楽しみに!https://t.co/ZIedYXt8uN #precure #プリキュア pic.twitter.com/XAE3wCBtv4

— 東映アニメーション公式 (@toeianime_info) 2018年1月5日
Main Staff:
Producer: Kazusa Umeda (ABC Animation), Fubito Yazaki (ADK), Keisuke Naito
Series Director: Junichi Sato (Sailor Moon, Ojyamajo Doremi), Akifumi Zako (Fresh PreCure!, Toriko)
Series Composition: Fumi Tsubota (Pretty Rhythm Dear My Future, Pretty Rhythm Rainbow Live)
Music: Yuuki Hayashi (Haikyu!!, My Hero Academia, Kirakira PreCure a la Mode)
Character Design: Toshie Kawamura (Yes! PreCure 5, Smile PreCure!)
Art Design: Nagisa Nishida (Maho Girls PreCure! the Movie)
Key Visual
【HUGっと!プリキュア新情報】
ビジュアル&放送日決定!プリキュアシリーズ15作目「HUGっと!プリキュア 」2018年2月4日(日)スタート!なんでもできる!なんでもなれる!輝く未来を抱きしめて!https://t.co/ZIedYXt8uN #precure #プリキュア pic.twitter.com/a5vxUxF568

— 東映アニメーション公式 (@toeianime_info) 2017年12月26日
---
Source: "Hugtto! PreCure" official website
©ABC-A, Toei Animation