The film's first terrestrial broadcast received an impressive 17.4% rating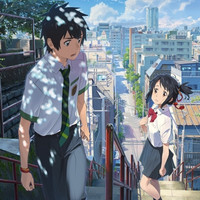 As reported, Makoto Shinkai's mega hit anime film Kimi no Na wa./Your Name. was aired terrestrially for the first time on TV Asahi's 24 stations in Japan on January 3. The 107-minute youth sci-fi film received an impressive 17.4% rating, which was 2.2% better than that of Shin Godzilla also aired on the same network in November 2017.
[Warning: The following report contains a major spoiler about the ending of the film.]
There has been a long-believed rumor that director Shinkai originally planned to end the film with a bitter ending; the two protagonists, Mitsuha Miyamizu and Taki Tachibana can't find or realize each other and go their separate ways in the end. The rumor said that distributor Toho argued against his idea and ordered him to change it to a happy ending as shown in the competed film. As a result, many fans who believed the rumor have appreciated the company's decision. Even after the film's
on-air on TV, messages of thanks for the change have been sent to Toho.
To deny the rumor, Shinkai posted a comment on his official Twitter with a photo of the original plot
written in 2014 as a proof as below:
"'Kimi no Na wa.' was finally aired on TV and I have received many impressions again. Thank you very
much! An unexpectedly noticeable one is that the film was originally planned to end after Taki and Mitsuha
passing each other and the company ordered me to change it to a happy ending. It is a misunderstanding (laugh).
The ending was decided in the original plot even before the screenplay was written.
『君の名は。』のテレビ放送があって、あらためてたくさんのご感想をいただきました、感謝です!意外に目立つのが「瀧と三葉はすれ違って終わる構想だったけど、会社に修正されてハッピーエンドになったんですよね」というもの。誤解です笑、脚本以前のプロットから終わりの形は決まっていたんです。 pic.twitter.com/VRFQCevlCl

— 新海誠 (@shinkaimakoto) 2018年1月5日
Source: Makoto Shinkai official Twitter