250 mm-tall pre-painted item will be shipped in May 2018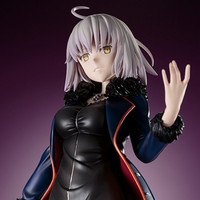 Japanese retailers today started accepting pre-orders for Kotobukiya's new 1/7 scale pre-painted PVC figure of Avenger/Jeanne d'Arc [Alter] Casual Wear ver. from popular smartphone RPG Fate/Grand Order. The costume was featured in the main scenario's 1.5th arc "Singularity Subspecies I: Shinjuku Phantom Incident." The right arm can be replaced to pose her holding her sword for a pose that was not shown in the scenario.
The 250 mm-tall figure is set to be released at 14,904 yen (about 132 US dollars) in May 2018. Purchasers at Kotobukiya's official stores will also get an alternative expression part.
As reported, the company released a 1/7 scale figure of Lancer/Tamamo no Mae from the game in November 2017, and also plans to offer another casual wear ver. figure of Saber/Artoria Pendragon [Alter] soon.
Purchasers at Kotobukiya's official stores will also get an alternative expression part
【コトブキヤショップ限定特典付き】
『Fate/Grand Order』より、復讐者のサーヴァント「アヴェンジャー/ジャンヌ・ダルク〔オルタ〕」が私服姿で立体化!
詳細⇒https://t.co/YUWQbM3V9L#フェイトグランドオーダー #フェイト#FateGO pic.twitter.com/yqfx6nVlTJ

— コトブキヤ宣伝 (@kotobukiyas) 2018年1月9日
---
Lancer/Tamamo No Mae Swimsiut Figure (November 2017 release)
Source: Kotobukiya press release
(c)TYPE-MOON / FGO PROJECT