Both series begin streaming soon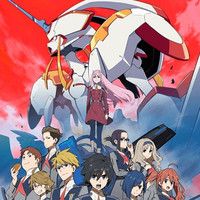 Crunchyroll is proud to announce even more additions to its already sizable Winter 2018 simulcast catalog, now including the highly-anticipated Trigger/A-1 Pictures collaboration Darling in the Franxx and Overlord II.
Darling in the Franxx (Starts Saturday January 13th at 9:00 AM PST)
They dream of one day flying into the endless sky, even though they are painfully aware of how far away the sky is beyond the glass that blocks their flight.
The distant future: Humanity established the mobile fort city, Plantation, upon the ruined wasteland and civilization flourished. Within the city were pilot quarters called Mistilteinn, otherwise known as the "Birdcage." That is where the children live... Not knowing anything of the outside world, and unaware of the vast sky. Their only mission in life was the fight.
Their enemies are the mysterious giant organisms known as Kyoryu. The children operate robots known as FRANXX in order to face these still unseen enemies because they believe that is their purpose in life. Among them was a boy who was once called a child prodigy: Code number 016, Hiro. However, now he's a failure and considered unneeded. Those who cannot pilot FRANXX basically do not exist.
One day, a mysterious girl called Zero Two appears in front of Hiro. From her face grew two alluring horns.
"I've found you, my Darling."
Crunchyroll will also be streaming Overlord II with premiere dates and times to be confirmed in the near future.