Quand un programmeur se retrouve dans son jeu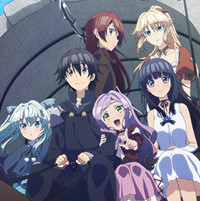 La série « isekai » du moment arrive sur Crunchyroll ! Retrouvez Death March to the Parallel World Rhapsody (Death March kara Hajimaru Isekai Kyôsôkyoku) en simulcast en VOSTFR. La série débutera dès le 11 janvier à 23 heures pour les membres Premium, puis sera accessible gratuitement une semaine plus tard. Un nouvel épisode sera ajouté chaque jeudi à partir de 17 h 30, à retrouver sur www.crunchyroll.com/death-march-to-the-parallel-world-rhapsody.
RÉSUMÉ
L'informaticien Ichirô Suzuki, alias Satô, se réveille à l'intérieur du jeu vidéo qu'il était en train de programmer. Comme il connaît bien toutes les fonctions et les recoins du jeu, il se révèle très à l'aise dans ce monde. Cependant, il préfère rester discret à ce sujet et tandis qu'il part à sa découverte, il tente de venir en aide aux différents personnages qu'il croise.
À PROPOS DE DEATH MARCH TO THE PARALLEL WORLD RHAPSODY
– L'histoire est adaptée d'un light novel (série de romans) publié depuis 2013 par Kadokawa et qui s'est vendu à plus d'un million d'exemplaires au Japon.
– La série est réalisée par Shin Ônuma (Fate/kaleid liner, Imôto sae ireba ii.) et produite par le studio Silver Link. (Strike the Blood, Restaurant to Another World, Masamune-kun's Revenge).
FICHE TECHNIQUE
Titre original : Death March kara Hajimaru Isekai Kyôsôkyoku (デスマーチからはじまる異世界狂想曲)
Année : 2018
Format : épisodes de 23 min
Auteur : Hiro Ainana
Réalisateur : Shin Ônuma
Studios de production : Connect, Silver Link.
TERRITOIRES
Death March to the Parallel World Rhapsody sera disponible sur Crunchyroll dans le monde entier, excepté en Asie.
©Hiro Ainana,shri,KADOKAWA/Deathmarch project