Dos simulcasts más para los próximos días.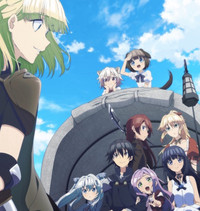 Esta temporada tenemos experiencias para todos los gustos que van desde viajes a la Antártida, peleas de ninjas al estilo más crudo, ciclistas, aficionadas al ramen, chicas que se van de acampada, terror incomesurable e incluso adolescentes enamoradas, pero todavía tenemos sitio para algunas más, así que sumamos Death March to the Parallel World Rhapsody y ampliamos información sobre el simulcast de The Silver Guardian 2.
Death March to the Parallel World Rhapsody
Estreno: 11 de enero a las 8:30, hora del Pacífico (Jueves)
Territorios: Todo el mundo a excepción de Asia
Ichiro Suzuki, conocido como "Satou", es un programador en plena marcha fúnebre. Cuando un día se despierta después de lo que supuestamente iba a ser una siesta normal, se encuentra en otro mundo... Lo que ve ante él parece la pantalla del menú del juego en el que estaba trabajando antes de dormirse, y es un novato de nivel 1. Por suerte tiene acceso a la nueva función de "mostrar todo el mapa" que acababa de implementar para ayudar a los novatos y tres usos de la magia "Lluvia de meteoritos", la cual puede acabar con todos los enemigos de un mapa completo.
Antes de acostumbrarse a su nueva situación, un grupo enorme de hombres lagarto lo asaltan y Satou no tiene más remedio que usar una de sus Lluvias de meteoritos para sobrevivir. ¿El resultado? Sube de repente a nivel 310 y se convierte en multimillonario. El viaje de Satou no ha hecho más que comenzar y ya poco le importa si está soñando o no.
The Silver Guardian 2
Estreno: 13 de enero a las 6:00, hora del Pacífico (Sábado)
Territorios: Todo el mundo a excepción de Asia
Enamorado en secreto de Riku Rei, la chica más popular de su escuela, Riku Suigin se ve forzado a entrar al juego online Grave Buster, un título virtual en el que Riku Rei ha sido secuestrada y tomada como rehén.
Para salvarla contará con el apoyo de Twin Star y los diez mil millones de yenes que su abuelo, Ruki Yuuki, le legó haciéndolo millonario.
Suigin tendrá que convertirse en el último Guardián protector de la Tumba y acabar con los asaltadores si quiere recuperar a Riku Rei y descubrir los misterios de Grave Buster.