The first episode has been watched over 350,000 times on Nico Nico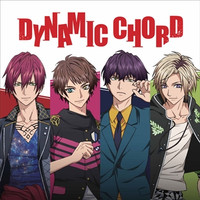 Akiba Souken, a Japanese news site dedicated to the Akihabara-related pop culture/products, has revealed the result of its online popularity poll for the fall 2017 TV anime. It was conducted on its anime portal site "AniPota" from December 19, 2017, to January 4, 2018. The total number of votes was 18,848. The users were allowed to vote seven times for their most satisfied anime series that were premiered in October 2017.
As expected, the previous season's most buzzed-about title DYNAMIC CHORD dominated the ranking, getting almost three times more votes than the second most popular series Blend S. The TV anime adaptation of honeybee's otome game franchise of the same name was produced by Studio Pierrot (Naruto, Bleach) and aired for 12 episodes. Check out the ranking for the 50 titles of the fall 2017 season below.
---
1 . "DYNAMIC CHORD" - 4,026 votes
©ASGARD/DYNAMIC CHORD
2. "BLEND-S" - 1,413
3. "Land of the Lustrous" - 1,409
4. "A Sister's All You Need" - 812
5. "My Girlfriend is Shobitch" - 763
6. "The Ancient Magus' Bride" - 686
7. "Just Because!" - 675
8. "Girls' Last Tour" - 666
9. "Yuki Yuna is a Hero: Washio Sumi Chapter/Hero Chapter" - 652
10. "Love Live! Sunshine!! 2nd Season" - 632
11. "Kino's Journey -the Beautiful World- the Animated Series" - 601
12. "Children of the Whales" - 578
13. "JUNI TAISEN: ZODIAC WAR" - 575
14. "Blood Blockade Battlefront & Beyond" - 555
15. "Konohana Kitan" - 493
16. "Recovery of an MMO Junkie" - 489
17. "Himouto! Umaru-chan R" - 464
18. "The [email protected] SideM" - 403
19. "Food Wars! Shokugeki no Soma: The Third Plate" - 349
20. "Hozuki no Reitetsu 2nd season" - 304
21. "Mr.Osomatsu 2nd Season" - 279
22. "Our love has always been 10 centimeters apart" - 250
23. "Inuyashiki" - 232
24. "March Comes in like a Lion: The 2nd Series" - 222
25. "Wake Up, Girls! New Chapter" - 154
26. "Anime-Gataris" - 133
27. "Infini-T Force" - 130
28. "Black Clover" - 120
29. "Code:Realize − Guardian of Rebirth" - 103
30. "Robomasters:The Animated Series" - 81
31. "The [email protected] Cinderella Girls Theater 2nd Season" - 70
32. "TSUKIPRO THE ANIMATION" - 65
33. "TwoCar" - 62
33. "Sengoku Night Blood" - 62
35. "UQ Holder! Negima! Magister Negi Magi 2" - 56
36. "King's Game The Animation" - 49
37. "Osake ws fufu ni Nattekara" - 45
38. "URAHARA" - 35
39. "GARO -VANISHING LINE-" - 27
40. "Omiai Aite wa Oshiego, Tsuyoki na, Mondaiji." - 23
41. "Dream Festival R" - 23
42. "Dies irae" - 16
43. "EVIL OR LIVE" - 11
44. "aiseki MOGOL GIRL" - 10
44. "Time Bokan The Villains' Strike Back" - 10
44. "Dia Horizon" - 10
47. "Fireball Humorous" - 9
48. "Taisho Mebiusline Chicchaisan" - 8
49. "Oretacha Yokai Ningen" - 6
50. "Ame-Con!!" - 2
---
Source: Akiba Souken