Highly-anticipated new season will be available on Crunchyroll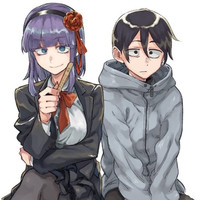 The official website for the TV anime adaptation of Kotoyama's dagashi (cheap sweets and snacks)-themed comedy manga Dagashi Kashi has confirmed that the ongoing second season's Blu-ray will be released in two boxes and that the manga author newly draws their cover arts. The first box including the second season's first six episodes (72 minutes) will be released on March 21, then the second box with its seventh to 12th episodes will be available on April 18. The first box also comes with the original soundtrack CD, while the second has a special booklet.
Kotoyama's newly-drawn art for the first box featuring Kokonotsu and Hotaru
(that for the second featuring Saya and Hajime is now previewed on the anime's official website)
「だがしかし2」Blu-rayが上下巻で発売決定!上巻は3月21日に発売です!コトヤマ先生描き下ろしBOXを使用したパッケージになっています!特典には竹達さんと沼倉さん出演映像特典「ほたるとサヤのお腹いっぱい召し上がれ!!!」が収録! #だがしかし https://t.co/rQx5OcQePG pic.twitter.com/nXpRQqvMHv

— TVアニメ「だがしかし2」公式 (@anime_dagashi) 2018年1月11日
CM for the Blu-ray
---
The first season of the TV anime, animated by feel., was aired for 12 episodes from January to March in
2016, and has been also available on Crunchyroll. The much-awaited second season, produced by Tezuka
Productions, premiered in Japan on January 11, and is confirmed to be streamed on Crunchyroll as well.
"Dagashi Kashi 2" key visual
PV
Source: TV anime "Dagashi Kashi 2" official website
©2018 Kotoyama, SHogakukan/Shikada Dagashi 2