The youth-sci film has earned a massive 25 billion yen from its one-year theatrical run in Japan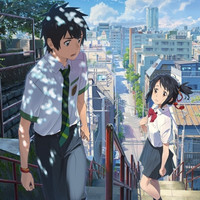 Video Research reported ratings data for the first terrestrial broadcast of Makoto Shinkai's anime film Kimi no Na wa./Your Name. on TV Asahi on January 3, which included live plus the next seven days (168 hours) of time shifted viewing.
The 107-minitue film pulled in a record-breaking total rating of 26.3 percent (live viewing: 17.4/time-shifted viewing: 11.7/excluding overlapped parts). It was the highest record in the "film" category since October 2016 when the research company started reporting the data for time-shifted viewing, surpassing Frozen in March 2017 and Shin Godzilla in November 2017.
Shinkai's most successful film ever was released in Japan on August 26, 2016, and earned a gigantic 25 billion yen from its domestic run, becoming the second top-grossing film in the Japanese cinema history. While the main story was aired without any cuts, Shinkai added a newly-edited shorter
ending movie featuring the first verse of RADWIMPS' insert song "Nandemonaiya."
君の名は。:総合視聴率26.3%獲得 「映画」ジャンル過去最高更新 https://t.co/18jKPBSNhr

— MANTANWEB (まんたんウェブ) (@mantanweb) 2018年1月12日
『君の名は。』初の地上波放送、ご視聴いただいたみなさまありがとうございました!最後のタイトル出るところまで物語部分はノーカットで、エンドロールだけは「なんでもないや」を1番までで絵を新海監督に編集していただきました。お楽しみいただけましたら幸いです! #君の名は。

— 映画『君の名は。』 (@kiminona_movie) 2018年1月3日
via: Mantan Web