La serie andrà in onda in Giappone il prossimo aprile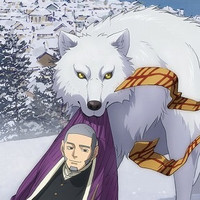 Sono stati annunciato gli interpreti deella sigle della serie Golden Kamuy, tratta dal manga storico omonimo di Satoru Noda.
La sigla di apertura sarà eseguita da MAN WITH A MISSION, mentre la sigla di coda sarà eseguita da THE SIXTH LIE. Entrambi i brani sono ancora senza titolo.
Il manga Golden Kamui è serializzato su Young Jump di Shueisha dal 2014 ed è valso all'autore il premio Taisho nel marzo 2016. È stato anche nominato al 40° premio annuale di Kodansha e al 20° Premio Culturale Osamu Tezuka.
Seiji Sugimoto, veterano della guerra russo-giapponese e soprannominato l'Immortale per la sue imprese, parte alla ricerca dell'oro nell'Hokkaido per salvare la vedova di un suo commilitone. Il suo viaggio lo porterà a contatto con il popolo Ainu.
L'anime Golden Kamuy è diretto da Hitoshi Nanba e animato da Geno Studio. Andrà in onda in Giappone nell'aprile 2018 su Tokyo MX, Yomiuri Telecasting Corporation, Sapporo Television Broadcasting e BS11.
Fonti:
Sito ufficiale della serie Golden Kamuy
Notizia originale di Paul Chapman, conduttore di The Greatest Movie EVER! Podcast e GME! Anime Fun Time.