Seven items inspired by "Stardust Crusaders" will be shipped in March & April 2018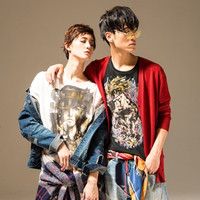 Following the well-received T-shirts inspired by the fourth arc released in April 2017, Bandai's official online store Premium Bandai today started accepting pre-orders for seven new collaboration apparel items featuring the characters and stands from JoJo's Bizarre Adventure: Stardust Crisaders, the third story arc of Hirohiko Araki's long-running JoJo's Bizarre Adventure manga series.
As with the previous ones, all items are produced by Tokyo-based apparel brand "glamb" headed by famous Japanese designer/photographer Kan Furuya. The seven-type T-shirts and a scarf are scheduled to start shipping in March 2018, then other five items will be available one month later.
Wearing images
---
T-shirt: Jotaro Kujo design (7,452 yen)
T-shirt: Dio design (7,452 yen)
Open-necked shirts: Iggy & Pet Shop (19,940 yen)
Coach Jacket: Star Platinum & The World (21,600 yen)
Cardigan: Hierophant Green (19,440 yen)
Scarf: Silver Chariot (10,800 yen)
Pants: Dickeies/Jotaro Kujo (18,360 yen)
Denim Pants: Jotaro Kujo (19,440 yen)
Source: Bandai Apparel Division press release
(C)LUCKY LAND COMMUNICATIONS/Shueisha, JoJo's Bizarre Adventure DU Production Committee