Toshiyuki Kubooka (The [email protected] character designer) directs the beach volleyball anime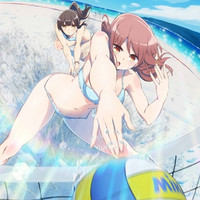 The official website for the upcoming TV anime adaptation of Nyoijizai's beach volleyball-themed manga Harukana Receive announced the voice cast of its two protagonists, along with their character reference visuals today.
The sports manga has been serialized in Houbunsha's Manga Time Kirara Forward since its October 2015 issue, and has released four tankobon volumes in Japan so far. The story follows high school girl Haruka Ozora who moves from Tokyo to live with her cousin in Okinawa, Kanata Higa. 172 cm-tall Haruka likes sports but an absolute beginner of beach volleyball. On the other hand, 151 cm-tall Kanata is shy, and gave up playing beach volleyball in the past because of her short stature. By chance, the two, who have totally different personalities, form a pair for beach volleyball games.
Kana Yuuki (Noelle Silva in Black Clover) voices Haruka Ozora
【大空 遥 キャラクター情報】
東京から沖縄へと引っ越してきた高校2年生。快活で明るい性格な大空 遥のキャラクタービジュアルを公開!遥を演じるのは優木かなさんです!https://t.co/mjNLpE535j#はるかな pic.twitter.com/tReUhfC43t

— 「はるかなレシーブ」公式 (@harukana_anime) 2018年1月24日
Saki Miyashita (the 6th Sigma Seven voice actress audition winner) plays Kanata Higa
【比嘉かなた キャラクター情報】
遥のいとこで、物静かで引っ込み思案な性格。身長が伸びずビーチバレーをあきらめてしまったという、比嘉かなたのキャラクタービジュアルはこちら! かなたを演じるのは宮下早紀さんです。https://t.co/mjNLpE535j#はるかな pic.twitter.com/WKjoIHcc1w

— 「はるかなレシーブ」公式 (@harukana_anime) 2018年1月24日
The TV anime adaptation is directed by Toshiyuki Kubooka, best known as the character designer for
The [email protected] franchise, alongside series composition writer Touko Machida (Lucky Star, Wake Up,
Girls!) and character designer/chief animation director Takeshi Oda (Oneechan ga Kita). C2C (Aquarion
Logos, WorldEnd) works on anime productuon. Its broadcast schedule in Japan has not yet been fixed.
Teaser visual
本日発売「まんがタイムきららフォワード」(芳文社刊)にて、『はるかなレシーブ』最新情報掲載! キャスト情報とキャラクター情報を公開しました!https://t.co/mjNLpE535j#はるかな pic.twitter.com/ixbcon6X4b

— 「はるかなレシーブ」公式 (@harukana_anime) 2018年1月24日
Manga tankobon 1st and 2nd volume covers
3rd and 4th
Source: TV anime "Harukana Receive" official website, Twitter
©Nyoijizai, Houbunsha/Harukana Receive Production Committee