Mobile game launches in English with special in-game event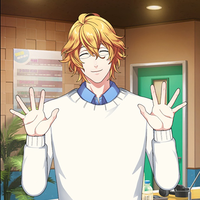 KLab, developers of the massively successful "Love Live School Idol Festival" game that has enraptured players for the past four years has announced the worldwide release of the "Utano☆Princesama Shining Live" mobile rhythm game in over 136 countries and regions in English and Traditional Chinese. The game will feature 11 idols from ST☆RISH and QUARTET NIGHT, with the following members being featured in the game and voiced by their respective voice actors from the anime series and previous adaptations:
ST☆RISH
Otoya Ittoki (Voice: Takuma Terashima)
Masato Hijirikawa (Voice: Kenichi Suzumura)
Natsuki Shinomiya (Voice: Kisho Taniyama)
Tokiya Ichinose (Voice: Mamoru Miyano)
Ren Jinguji (Voice: Junichi Suwabe)
Syo Kurusu (Voice: Hiro Shimono)
Cecil Aijima (Voice: Kohsuke Toriumi)
QUARTET NIGHT
Reiji Kotobuki (Voice: Showtaro Morikubo)
Ranmaru Kurosaki (Voice: Tatsuhisa Suzuki)
Ai Mikaze (Voice: Shouta Aoi)
Camus (Voice: Tomoaki Maeno)
The game also features augmented reality camera features that will allow players to superimpose their favorite idols onto selfies or pictures, should the mood strike you. Below, the introductory trailer for the game:
As an additional incentive to download the game, the Starting Celebration Special Event is underway, where new players will recieve bonuses for 14 days begiinning from first login starting today, on top of additional bonuses to celebrate the official English launch, detailed in-game and on the official site. If you were also in the mood for it, Crunchyroll has the anime adaptation available to watch, and it's awesome.
---
Humberto Saabedra can be found musing on his favorite 2D girls and current events at @vdeviance on Twitter, and you can support his writing on Patreon, Ko-Fi and Medium.