OVA "Omoide Present" Blu-ray is released in Japan today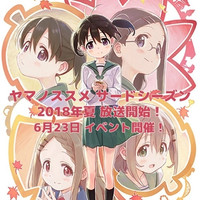 The official website for the anime adaptation of Siro's mountaineering-themed manga Yama no Susume/Encouragement of Climb announced the official title for its upcoming TV anime third season that is slated for summer 2018. It has been called only "The third season (tentative)." As with the second season, the third season is now officially titled Yama no Susume: Third Season (without "tentative"). And all of the main staff of the second season are confirmed to return.
タイトル、ヤマノススメ 第3期(仮)と名乗っていましたが、ついに正式タイトルを発表します!正式タイトルは…
ヤマノススメ サードシーズン
です!スタッフ・キャストも公開!ニュースページをチェック☆ https://t.co/4sfWY7TbuC #ヤマノススメ pic.twitter.com/GT69URmPk8

— OVA1月&第3期夏『ヤマノススメ』公式 (@yamanosusume) 2018年1月26日
To celebrate the highly-abticipated third season, a "Kaizansai (Opening Mountains) Festival" event is set
to be held at Hanno Civic Hall in Hanno-city, Saitama Prefecture, where the main story takes place, on
June 23. The three main voice cast of the show: Yuka Iguchi (Aoi Yukimura), Kana Asumi (Hinata Kuraue),
and Yui Ogura (Kokona Aoba) are confirmed to join. An advance entry coupon for the ticket is included
in the Blu-ray of the OVA "Omoide Present" released today in Japan.
OVA "Omoide Present" Blu-ray CM
TV anime third season main staff:
Director/Sound Director/Series Composition: Yusuke Yamamoto (1st and 2nd season)
Character Designer/Chief Animation Director: Yusuke Matsuo (1st and 2nd season)
Scenario: Kazuyuki Fudeyasu (2nd season)
Music: [email protected]/yamazo (2nd season)
Anime Production: 8bit (1st and 2nd season)
---
The 13-episode TV anime first season was aired as a five-minute series from January to March 2013,
then the 24-episode second season followed as a 15-minute series from July to December 2014. The
episodes have been available on Crunchyroll.
TV anime first season key visual
TV anime second season key visual
---
Source: "Yama no Susume/Encouragement of Climb" anime official website, Twitter
© Siro/Earth Star Entertainment/Encouragement of Climb Production Committee