Kazuto Nakazawa (Kill Bill)-directed suspense drama will be available on Netflix on March 2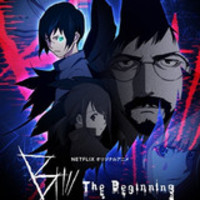 The official website for Production I.G's original anime B: The Beginning has posted a new key visual featuring the faces of its five main characters and a 90-second full trailer that introduces its theme song "The Perfect World" performed by Marty Friedman (guitar), MAN WITH A MISSION's Jean-Ken Johnny (vocal), and KenKen (bass).
The story of B: The Beginning is co-created by Production I.G and 49-year-old Kazuto Nakazawa,
best known for his works for the animation part in Quentin Tarantino's 2003 film Kill Bill: Volume 1.
He also serves as co-director with Yoshinobu Yamakawa (Is It Wrong to Try to Pick Up Girls in a Dungeon?).
B: The Beginning will be streamed worldwide on Netflix from March 2, 2018. Netfilx describes its story
as below:
In a world powered by advanced technology, crime and action unfold in the archipelagic nation of Cremona.
Koku, the protagonist. Keith, the legendary investigator of the royal police force RIS. A mysterious criminal
organization. A wide variety of characters race through the fortified city as it is beset by the serial killer,
Killer B, and a chain of crimes in this suspense drama by director Kazuto Nakazawa and Production I.G.
New key visual
また、「B: The Beginning」の最新キーアートも本日公開となりました!
本作品は2018年3月2日(金)よりNetflixにて全世界同時配信開始です!#BTheBeginning #Netflix #ネトフリ pic.twitter.com/l1Bc4KW1rl

— B:The Beginning@3.2Netflixにて全世界独占配信 (@b_the_beginning) 2018年1月26日
Main staff:
Original Story: Production I.G & Kazuto Nakazawa
Director: Kazuto Nakazawa & Yoshinobu Yamakawa (Is It Wrong to Try to Pick Up Girls in a Dungeon?)
Series Composition/Screenplays: Masaya Ishida
Character Designer/Chief Animation Director: Kazuto Nakazawa
Music Yoshihiro Ike (Tiger & Bunny)
Anime Production: Production I.G
Main Voice Cast:
Keith Kazama Flick: Hiroaki Hirata (Sanji in One Piece)
Koku: Yuuki Kaji (Eren Yeager in Attack on Titan)
Lily Hoshina: Asami Seto (Chihaya Ayase in Chihayafuru)
Eric Toga: Hiroki Touchi (Chris Redfield in Resident Evil)
Boris Meyer: Minoru Inaba (Monjii in One Piece)
Kaela Yoshinaga: Ami Koshimizu (Sailor Jupiter in Sailor Moon Crystal)
Brian Brandon: Toshiyuki Toyonaga (Yuuri Katsuki in Yuri!!! on Ice)
Mario Luis Zuleta: Shintaro Tanaka (Kei Nagara in Cardfight!! Vanguard G)
Jean Henry Richard: Atsushi Goto (Bunzou in Naruto)
Gilbert Ross: Toshiyuki Morikawa (Takaya Aiba in Tekkaman Blade)
Minatsuki: Kaito Ishikawa (Rinne Rokudou in Rin-ne)
Source: "B: The Beginning" official website, Twitter
© Kazuto Nakazawa / Production I.G