Yoshio Suzuki (Fighting Beauty Wulong) serves as director for EKACHI EPILKA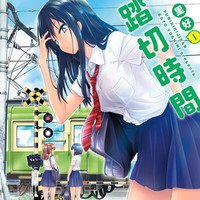 The official website for the upcoming TV anime adaptation of Yoshimi Sato's slice-of-life omnibus manga Fumikiri Jikan (Railroad Crossing Time) opens today for an April 2018 premiere in Japan. In addition to the announcement for its voice cats and staff, the site posts a memorial illustration newly drawn by the manga author, which is also featured on the cover of the latest March 2018 issue of Futabasha's Monthly Action released today.
The short story collection manga has been serialized in the monthly manga magazine and so far two tankobon volumes are available in Japan. Each story focuses on the minds of the people (mainly female students) who are waiting before a railroad crossing.
The TV anime is directed by Yoshio Suzuki (Fighting Beauty Wulong), alongside series composition writer Mizuzu Chiba (Aikatsu Stars!, Nana Maru San Batsu) and character designer Kaoru Takamura
(Dragon Ball Super episode animation director). EKACHI EPILKA (Genghis Khan no Gen-kun) works
on anime production. Sayaka Senbongi (Mumei in Kabaneri of the Iron Fortress) and Yui Ogura (Hinata
Hakamada in Ro-Kyu-Bu!) are cast as Ai and Tomo, respectively, who appeared in the first episode
of the manga.
Monthly Action March 2018 issue cover
Manga tankobon 1st and 2nd volume covers
Source: TV anime "Fumikiri Jikan" official website
© Yoshimi Sato, Futabasha/"Fumikiri Jikan" Production Committee