Latest manga from "Investor Z" author launches tonight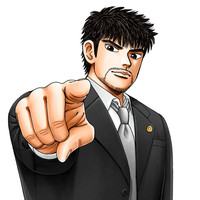 Crunchyroll is excited to announce the latest addition to its simulpub manga catalog in Dragon Zakura 2 from Investor Z author Mita Norifusa. The series will go live tonight for all Crunchyroll members worldwide starting at 5PM PST, with new chapters going up every Wednesday at 5PM PST.
Prior to the 2020 Education Reform, "our man" is coming back!
He's the legendary attorney Sakuragi Kenji, who will waltz back to the fallen Ryuzan High School where the students' academic aptitude is plummeting. In opposition to apathetic students and "The Empress" (Representative of the Chief Director) who wields overwhelming authority, he will start a revolution along with Mizuno, his former pupil.
Part 2 of Dragon Zakura, the legendary "manga that will help you pass the University of Tokyo entrance exams" — which helped change the landscape of Japan's university entrance exams — is here at last! Rest assured, entering the University of Tokyo is going to be a cinch!