Train campaign launched in 2015 extended after original 2016 end date due to popularity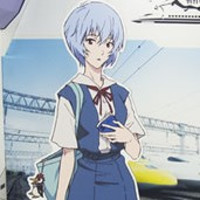 After first being unveiled in 2015 as a literal promotional vehicle for the franchise, the Type 500 Eva bullet train that has captivated Japanese otaku and even the mainstream press will finally be retired this Spring in Japan, but not before giving commuters one last chance to ride its lavishly detailed train cars.
The train was originally meant to run from its initial launch of November 2015 into Spring 2016, but due to the overwhelming success of the promotion and the unexpected volume of ridership for the route from Hakata to Shin-Osaka, the promotional campaign behind the train was extended an additional 18 months, with the train finally expected to end service this Spring. In addition, the Kyoto Railway Museum will hold an exhibition around the Type 500 Eva train before it ends operation starting next month and running until May 6th.
The train features design motifs from Eva, from the body style designed around the EVA-01's general design, to the designs of the seats and train cars emulating NERV hallways. Aside from the visual motifs, the train also features a lead train car where passengers can participate in a mock Angel attack exercise with the car's interior meant to simulate an Eva cockpit.
This looks like an awesome train to ride in regardless of the Eva tie-in. If you had the chance would you take a ride on this train?
---
Humberto Saabedra can be found musing on his favorite 2D girls and current events at @vdeviance on Twitter, and you can support his writing on Patreon, Ko-Fi and Medium.