Photo props inspired by the characters are also available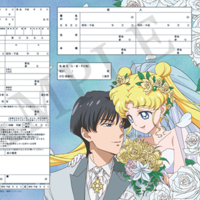 Konin Todoke Seisakujo/Design Laboratory for Marriage Paperworks has offered various types of marriage registration papers inspired by the Sailor Moon Crystal anime franchise. The Tokyo-based company today added a newly designed one titled "Miracle Romance" featuring a wedding scene between Usagi and Mamoru.
The company started offering marriage papers using images of poplar characters, such as Hello Kitty, One Piece, and Hatsune Miku, since November 2014. The papers have been purchased/downloaded over 16,000 times per month, which is about 30 percent of the monthly number of marriage registrations in Japan. As with the previous ones, the 3,000-yen set contains three papers (two for submission, one for a memory), and of course can be used for official registration at government offices.
"Sailor Moon Crystal: Miracle Romance" edition
"Narikiri Photo Props" inspired by the characters are also available at 2,160 yen from today.
---
"Romance Wedding" edition
"Moonlight Kiss" edition
"Romantic Love" edition
"Make Up Princess" edition
Source: LMN Holdings press release
© Naoko Takeuchi, PNP, Kodansha, Toei Animation
© Naoko Takeuchi