EXPG (EXILE PROFESSIONAL GYM) supervises the girls' dance performance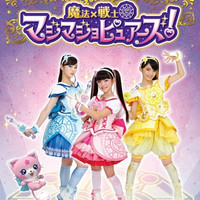 Following the ongoing Idol x Senshi Miracle Tunes!, 57-year-old Takashi Miike (Terra Formars, JoJo's Bizarre Adventure: Diamond Is Unbreakable Chapter I) is confirmed to again serve as general director and one of the episode directors for TV Tokyo's new tokusatsu TV series for girls, Mahou x Senshi Majimajo Pures!. The second installment of the station's "Girls x Heroine" live-action series is set to premiere this spring.
The story centers on the protagonist girl Momoka Aino, who is in the first grade of junior high school. On the day of the entrance ceremony, she becomes a members of "Mahou Senshi Majimajo Pures!" with the guidance of mysterious power. Along with Rin Shirayuki and Mitsuki Hanamori, she uses her magical dance power to fight against the enemies from "Jyamakai" who are trying to take people's dreams.
Key visual
【サイトOPEN】「魔法×戦士 マジマジョピュアーズ!」公式サイト・SNSオープンしました!是非フォローを宜しくお願いします♪ #マジマジョピュアーズ #マジョピュア #特撮https://t.co/sdRawnmd8J pic.twitter.com/0OJmI5I4nc

— 魔法×戦士 マジマジョピュアーズ! (@majopure) 2018年1月30日
1st PV
Cast interview
春から放送予定の『魔法×戦士 マジマジョピュアーズ!』製作記者発表会に行ったよ!三池崇史監督が手がける女の子向け特撮作品第2弾なの♪ 第1話ゲストの南明奈さんともお会いしたよ!リカの魔法使いコーデ…あれ、ちょっと本格的な魔女になっちゃった?♡#マジョピュア pic.twitter.com/vaghz0vlAo

— リカちゃん 公式 * 50th *♬ (@bonjour_licca) 2018年1月31日
Source: Takara Tommy press release, Licca-chan official Twitter
© TOMY, OLM/Majimajo Pures! Production Committee, TV Tokyo