Eleven-member group's 2nd single "Shampoo no Nioi ga Shita" hits stores April 11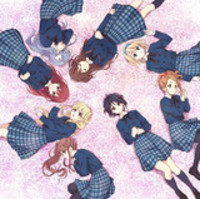 The official website for Sony Music and Aniplex's digital idol project 22/7 is updated with a new visual for their upcoming second single "Shampoo no Nioi ga Shita" (I found the smell of shampoo), drawn by Yukiko Horiguchi, who is best known as the character designer of Kyoto Animation's Lucky Star, K-ON!, and Tamako Market. The eleven-member idol group's highly-anticipated second single is set for a release on April 11.
22/7 members
As previously reported, the project featuring 2D anime characters and real idols voicing their characters
revealed in October 2016, and has been produced by Yasushi Akimoto, who has worked on many successful
Japanese idol groups, including AKB48 and other derived ones. The eleven members were chosen by the
audition held between October and December 2016, then released their debut single from Sony Music Records,
"Boku wa Sonzai Shiteinakatta" (I didn't exist) in September 2017.
---
Arts for the "22/7" project drawn by Yukiko Horiguchi
Main visual (December 2016)
For the 1st single "Boku wa Sonzai Shiteinakatta" (August 2017)
SD version characters for the Christmas event (December 2017)
Source: Sony Music Labels press release
Ⓒ22/7PROJECT