Amazon Japan has not yet resumed to accept orders for his "Keifuku-san" DVD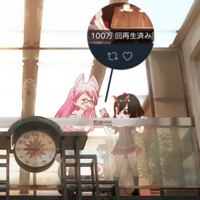 Former "Kemono Friends" director Tatsuki posted his new 115-second original short anime "Hentatsu (preliminary version)" on his official Twitter on January 31. As a proof of his royal fans' continuous support, the clip has been already viewed over one million times in just five days. He soon posted another new art featuring the two yet-named original characters to show his appreciation to the fans. In the art set obviously near Nakano Broadway, the two are looking on the smartphone's screen and are happy with the one million view sign attached with the clip.
100万再生ありがとうございます! #へんたつ pic.twitter.com/zBzUMAMhWI

— たつき/irodori@ティアの46b (@irodori7) 2018年2月4日
As of 15:00 on February 5 (JST), it has been viewed 1,039,100 times.
趣味のアニメです #へんたつ pic.twitter.com/6mLfmvM5gL

— たつき/irodori@ティアの46b (@irodori7) 2018年1月31日
The clip is also available on his independent animation group irodori's official YouTube channel.
---
Meanwhile, Amazon Japan has still stopped accepting pre-orders for the five-minute DVD of his previous
original short anime "Keifuku-san." The disc was originally planned to be released today in Japan. The online
store started accepting pre-orders for the disc on January 31, but had to stop it due to far more orders
than expected just in five days. The disc is now set to be released on February 19, two weeks later than
originally scheduled.
"Keifuku-san" full edition
Source: Tatsuki official Twitter