Shinsuke Sato (GANTZ, I Am a Hero)-directed film hits Japanese theaters July 20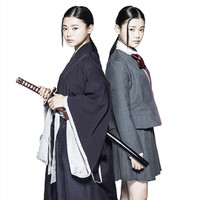 Following 24-year-old Sota Fukushi (Gentaro Kisaragi in Kamen Rider Fourze) as Ichigo Kurosaki, the official website for the upcoming live-action film adaptation of Tite Kubo's Bleach action manga today also revealed a visual of its female protagonist Rukia Kuchiki portrayed by 20-year-old Hana Sugisaki (Rin Asano in Blade of the Immortal, Mary in Mary and the Witch's Flower). The two previously co-starred in the 2014 film In The Hero and the 2016 TV drama Montage.
Sugisaki says, "In order to play Rukia, who is a powerful and pure Soul Reaper, I read the original manga over and over again and also watched the anime. I examined Rukia in my own way to prepare for the character. Since I have already worked with Fukushi-san in some other films, I felt relieved from the first day of the shooting. While Ichigo and Rukia are human and death characters in this story, I thought they have hearts, after reading through the screenplay. I fell in love with them whose existences are supporting each other and becoming stronger. I think I was able to feel that
way because Fukushi-san was with me. I believe the friendship between the two that I actually felt
at the sets will surely reach the hearts of this film's audience."
/
朽木ルキア役に杉咲花
\
主人公・黒崎一護とともに物語のキーパーソンとなる、悪霊・虚〈ホロウ〉を葬る死神・朽木ルキア役に、2017年の映画賞を総なめ 2018年最注目女優 #杉咲花 さんが決定 女子高生姿&死神姿のビジュアル初披露

映画『#BLEACH』7.20公開 #映画ブリーチ pic.twitter.com/JQsAnQtkjE

— 映画『BLEACH』公式 (@bleach_moviejp) 2018年2月4日
The live-action film Bleach directed by Shinsuke Sato (GANTZ, I Am a Hero) was announced in August 2016
and its principal shooting was reportedly held from September to November of the year (it means the film
has needed a lot of post production works). Warner Brothers Japan confirms that it will be released in Japan
on July 20, 2018. The story of the adaptation is based on the "Substitute Shinigami" arc told in the manga's
1st to 8th volumes.
Sota Fukushi as Ichigo Kurosaki
/
 死 神、 見 参。
\
企画発表以来、一切明かされなかったバトルアクション⚔プロジェクト、映画『BLEACH』が遂に始動
2018年夏の公開にむけて、初のビジュアル、解禁です‼ #福士蒼汰 #佐藤信介 #映画ブリーチ pic.twitter.com/1GUyLnvaPv

— 映画『BLEACH』公式 (@bleach_moviejp) 2017年7月6日
Teaser trailer
Source: "Bleach" live-action film official website, Twitter
©Tite Kubo/Shueisha
©2018 "Bleach" Film Partners