Third film in 2014 film trilogy screens March 9th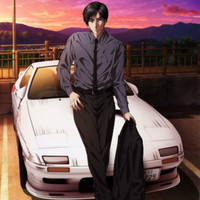 Sentai Filmworks and screening partner Azoland Pictures have announced that the Initial D Legend film trilogy will receive theatrical screenings across the US in a limited engagement starting February 23rd, with the first two films Legend and Awakening being screened as a double feature while the third film, Dream will be screened two weeks later on March 9th.
The Initial D Legend trilogy is a condensed adaptation of the original manga by Shuichi Shigeno that strips out much of the background and focuses on Takumi Fujiwara's rise as a street racer in Gunma Prefecture while delivering tofu for his father's business. The films were first released starting in 2014 in Japan as an annual film series. Azoland Pictures describes the films:
About Initial D Legend 1: Awakening
The wheels are set in motion as Koichiro Iketani of the Akina Speedstars witnesses a mysterious
driver outmaneuver and beat rival, Keisuke Takahashi of Akagi RedSuns. The impromptu race,
he later discovers, was won by none other than his very own co-worker at the gas station, Takumi
Fujiwara, the son of a legendary racer. In the high-paced world of street racing, Takumi shakes it
up with an extraordinary racing style as the Akina Speedstars and the RedSuns go head to head
on Mount Akina.
About Initial D Legend 2: Racer
The leader of rival group Myogi NightKids, Takeshi Nakazato, wants to challenge the now
infamous Takumi Fujiwara in a race down Mount Akina. As Takumi questions his identity as a
racer, he finds that, there's more to lose than just a simple race. When another member of the
NightKids causes Takumi's friend to crash his car, Takumi takes on the treacherous twists and
turns down Mount Akina in his most challenging race yet.
About Initial D Legend 3: Dream
Takumi Fujiwara has garnered the attention of the legendary street racer Ryosuke Takahashi,
leader of the Akagi RedSuns. As he prepares for the biggest race of his life, Takumi finds himself
trying to juggle his passion for racing with his personal life. With his girlfriend Natsuki
wondering about their relationship, and his friends conflicting agendas, can Takumi find the
answers behind the wheel?
More specific details on tickets and showings will be available on Azoland Pictures' official website shortly before the screenings take place. As an incentive to dtive devoted fans of the franchise to the films, a special gift will be given out to each attendee.
---
Humberto Saabedra can be found musing on his favorite 2D girls and current events at @vdeviance on Twitter, and you can support his writing on Patreon, Ko-Fi and Medium.