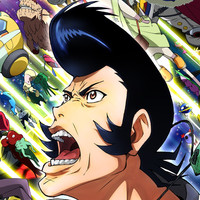 Crunchyroll is excited to announce yet another wave of Funimation catalog titles that are launching on the service tonight. Without further ado, the new titles are below, including a few fan favorites.
Shinichiro Watanabe's most recent work Space Dandy joins Crunchyroll starting at 8pm PT for members in the following territories: United States, Canada and Premium Members in Iceland, Sweden, Norway.

Space Dandy is a dandy in space! This dreamy adventurer with a to-die-for pompadour travels across the galaxy in search of aliens no one has ever laid eyes on. Each new species he discovers earns him a hefty reward, but this dandy has to be quick on his feet because it's first come—first served!
Jyu-Oh-Sei joins the lineup starting at 5pm PT for members in the following territories: United States, Canada, United Kingdom, Ireland, Australia, New Zealand, South Africa.



After their parents are murdered, young twin brothers Thor and Rai are abandoned on Chimaera, a hostile planet where criminals are sent to die. With extreme temperatures and carnivorous plants, it is a brutal world where mankind has been reduced to a savage state. The only hope of escape lies in conquering the planet and its inhabitants, rising above them all as the Beast King.


Glass Fleet comes to Crunchyroll starting today at 6pm PT for members in the following territories: United States, Canada, Australia, New Zealand.



A revolution stirs in the dark reaches of space. Michel Volban leads The People's Army against the oppression of self-proclaimed Holy Emperor, Vetti Sforza. Just as it appears the rebellion will be crushed, a hero arrives to join the fight. Pirate Cleo Corbeille—the last of the fallen Royal Family—steers his sleek battleship into battle and brings new hope that freedom can be obtained.
The classic story Samurai 7 joins Crunchyroll today at 7pm PT for members in the US and Canada.



A war-ravaged country struggles against the terrifying Nobuseri, a vicious breed of warrior that is more machine than man. Seeking its own salvation, a weary village sends a young priestess on a quest to hire samurai for protection. One by one, these men of skill and honor gather to stand between the helpless and the hated.