Short anime films were originally created to celebrate a pair of pandas being loaned to Ueno Zoo in 1973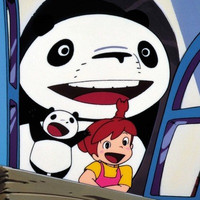 Panda! Go Panda and Rainy-day Circus, a pair of 1972 - 1973 short theatrical aime movies written by Hayao Miyazaki and directed by Isao Takahata of Studio Ghibli, are returning to Japanese cinemas for a set of special screenings that celebrate the 45th anniversary of their release.
The films will be exhibited as select Aeon Cinema theaters throughout Japan using a cleaned-up, digital remaster from a digital scan of the original film negative. Screenings begin in Yūkarigaoka, Kanazawa, Okyozuka, Takasaki, Komatsu, Ota, and Fujimino on February 17, 2018, with additional screenings to follow elsewhere beginning on February 24, 2018. Tickets to the screenings cost 1100 yen ($10.13 US) for adults and 800 yen ($7.37 US) for children.
Panda! Go Panda and Rainy-day Circus were originally created to celebrate the Chinese government loaning of a pair of giant pandas to the Ueno Zoo in 1972, which sparked off a "Panda Craze" in Japan. The films are also released on DVD and Bluray in North America by Discotek Media, who describe the story of Panda! Go Panda! as follows:
Cheerful Mimiko has a very strange family for a little girl - a Panda for her Papa, and his son, Panny, calls her Mom! Join this happy family and their many adventures! When Panny follows Mimiko to school, he must pretend to be a teddy bear so Mimiko won't get into trouble, but everyone wants a cute Panda! Despite his efforts to behave, Panny causes trouble in the school kitchen, and now the whole school is after Panny!
Then, Panny makes a new friend, Tiny, a baby tiger who's wandered off from the circus. Getting Tiny back to his mom becomes the first adventure, but after a hard rain, the whole town is flooded and Mimiko, Papa Panda and Panny must rescue Tiny and other animals from the trapped circus train!
Sources:
Official Aeon Cinema home page
Paul Chapman is the host of The Greatest Movie EVER! Podcast and GME! Anime Fun Time.