Two character glasses will go on sale at "Animegane" in Akihabara and "eyemirror" in Ikebukuro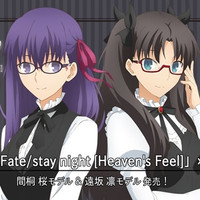 DUO RING, a company operating "Shitsuji Megane eyemirror" (Butler Glasses eyemirror)'s official online store, will start offering two new collaboration glasses inspired by Sakura Matou and Rin Tohsaka, the two heroines from the trilogy anime film Fate/stay night [Heaven's Feel]. As reported, the company has released many glasses inspired by the characters from popular anime series, incuding Puella Magi Madoka Magica the Movie: Rebellion, Girls Und Panzer, Macross Frontier, BORUTO, and Mahou Girls PreCure!
In addition to the "Shitsuji Megane eyemirror's" online store, the two 14,000-yen (about 129 US dollars) items will be sold at its Ikebukuro store and "Animegane," an anime collaboration glasses specialized store in Akihabara, from February 17.
【劇場版「Fate/stay night [Heaven's Feel]」× メガネ 2月17日発売決定!】

間桐桜・遠坂凛のお二人をモチーフとしたメガネが誕生致しました。

※度付き対応可能
※男女兼用
※描き下ろしメガネ拭き付きhttps://t.co/EEyPngg5EX pic.twitter.com/kE2tbn5WM1

— 執事眼鏡eyemirror (@eye_mirror) 2018年2月9日
---
Sakura Matou model
Cleaning cloth
---
Rin Tohsaka model
Cleaning cloth
Case
---
The DVD/Blu-ray of Fate/stay night [Heaven's Feel] THE MOVIE I. presage flower is set to be released on May 9.
【BD&DVD発売決定!】
劇場版「Fate [HF]」のBD&DVDが5/9(水)に発売します!

完全生産限定版特典には武内崇描き下ろしBOXや、須藤友徳描き下ろしデジジャケットと「Fate [HF]」ファンにはたまらない内容となっております!https://t.co/jAwLjBZmsb  #fate_sn_anime pic.twitter.com/krCDYPOOIO

— Fate/stay night (@Fate_SN_Anime) 2018年2月8日
Source: DUO RING press release
(C)TYPE-MOON・ufotable・FSNPC