The manga author says, "Baruto-san looked very nice with his beard."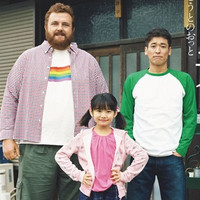 The official website for the upcoming live-action TV drama adaptation of Gengoroh Tagame's LGBT-themed family drama manga Otouto no Otto/My Brother's Husband has posted a main visual introducing its three main cast: 37-year-old actor Ryota Sato (Maes Hughes in Fullmetal Alchemist) as the protagonist Yaichi, 33-year-old ex-sumo wrestler from Estonia, Baruto as Yaichi's twin brother Ryoji's husband from Canada, Mike, and 9-year-old Maharu Nemoto (Kaori Miyazono in her childhood in Your Lie in April) as Yaichi's daughter Kana. As introduced below, the visual is inspired by the cover illustration of the manga's 1st tankobon volume.
The adaptation is set to air for three episodes on Japan's national public broadcasting station NHK's main satellite channel NHK BS Premium from March 4 to 18.
The manga author posted the visual on his official Twitter
【宣伝】実写ドラマ『弟の夫』メインビジュアル解禁されました。
NHKサイト→ https://t.co/TSBosIB13x
双葉社特設ページ→ https://t.co/gRgVdpcBkv

田亀源五郎『弟の夫』の世界展(東京・神宮前)、2/26〜3/24開催。2/24にトークショーあり。 → https://t.co/QIiUxkHLsU pic.twitter.com/a8NIU7K8IO

— 田亀源五郎 (@tagagen) 2018年2月13日
He also says, "Since the main visual for the drama 'Otouto no Otto' is revealed, I can finally tweet
about things from the past, such as; I was shocked when I saw Maharu Nemoto-san's audition photo,
'She exactly looks like Kana!,' Baruro-san whom I met at the set looked very nice with his beard,
and I was impressed by Ryota Sato-san's impression in the main visual."
ドラマ『弟の夫』のメインビジュアルが解禁されたので、これでようやく、根本真陽さんのオーディション写真を見て「まんま夏菜じゃん!」と驚愕したとか、撮影現場見学で見た把瑠都さんはおヒゲが似合ってたとか、メインビジュアルの佐藤隆太さんの表情に感動したとか、過去ネタを呟けますw

— 田亀源五郎 (@tagagen) 2018年2月13日
Manga tankobon 1st volume cover
---
The manga was serialized in Futabasha's Monthly Action from 2014 to 2017, and compiled in four tankobon
volumes. It won the Excellence Prize in the manga category of the 19th Japan Media Arts Festival in 2015.
Its English edition is published by Pantheon Books in the US. The publisher describes the story as below:
"Yaichi is a work-at-home suburban dad in contemporary Tokyo; formerly married to Natsuki, father to their
young daughter, Kana. Their lives suddenly change with the arrival at their doorstep of a hulking, affable
Canadian named Mike Flanagan, who declares himself the widower of Yaichi's estranged gay twin, Ryoji.
Mike is on a quest to explore Ryoji's past, and the family reluctantly but dutifully takes him in. What follows
is an unprecedented and heartbreaking look at the state of a largely still-closeted Japanese gay culture: how
it's been affected by the West, and how the next generation can change the preconceptions about it and
prejudices against it."
Source: NHK, Gengoroh Tagame Twitter
© Gengoroh Tagame/Futabasha