Four-episode drama will premiere on March 10, then the film will follow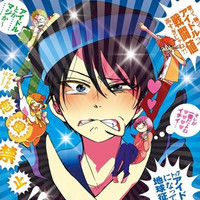 Nihon TV opens an official page for the upcoming live-action TV drama adaptation of Yuna Takagi's comedy manga Dol:Men X today on February 13. The manga was serialized in Shogakukan's monthly magazine HiBaNa and its last fourth tankobon volume was published in July 2017. The story centers on four aliens who seek to invade the earth through male idol activities, such as street live performances, stage plays and musicals.
22-year-old Jun Shison, best known as Right/ToQ 1gou in Toei's 38th Super Sentai series Ressha Sentai ToQger, is set to star as "the leader" of the alien idol group. The four-episode TV drama will premiere on Nihon TV on March 10, then a compilation film with a sequel story that is set 15 years after the TV drama will be released before the end of this year.
Man Cast:
The leader: Jun Shison (Right/ToQ 1gou in Ressha Sentai ToQger)
Ichii: Koudai Asaka (Haru Sakurane in Sakura no Ame)
Nii: Yuuki Ogoe (Ryoma Echizen in The Prince of Tennis Musical)
Yoi: Tina Tamashiro (Marin Tachibana in Wolf Girl and Black Prince)
Shugo Sanemitsu: Renn Kiriyama (Shotaro Hidari in Kamen Rider W)
Sai: Arata Horii (Yasushi Kido in Aozora Yell)
President Hatano: Yoshimi Tokui (comedian group TUTORIAL member)
日本テレビ新ドラマ「ドルメンX」公式アカウントです!作品情報や撮影の様子をどんどん発信していきますー!ドラマ版放送はまずは関東のみですが、映画公開も決定!どうぞよろしくお願いします! #ドルメンX #志尊淳 #浅香航大 #小越勇輝 #堀井新太 #玉城ティナ #宇宙人ですよ #日テレ pic.twitter.com/L0G73rOAlG

— 【公式】ドルメンX (@dolmenx_ntv) 2018年2月12日
The manga author posted her comment on Twitter:
"Some people laughed at me who was clumsy. I also felt miserable so many times. Sometimes I feel
embarrassed and ashamed myself who could say only sultry and poetic things in this age. Still, thanks
to the people who have believed in me and whom I can trust, I will keep walking with shame and passion.
'Dol:Men X' will be adapted into live-action!"
不器用な私を笑う人もいました。惨めな思いもたくさんしました。今の時代に暑苦しくポエムな事しか言えない自分を恥ずかしく情けなく思うこともあります。それでも、信じてくれる人や信じられる人がいたから私はこれからも恥ずかしく熱く歩き続けたいと思います。
『ドルメンX』実写映像化します! pic.twitter.com/w1CbMad98g

— 高木ユーナ「ドルメンX」 (@takagi1015) 2018年2月13日
Commemoration art for the announcement
Manga tankobon 1st and 2nd volume covers
3rd and 4th
Source: Nihon TV, Yuna Takagi Twitter
© Yuna Takagi/Shogakukan Inc.