You can win a reproduction of the manga arts via the Twitter campaign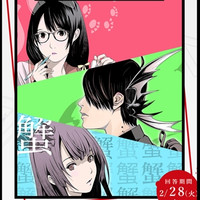 Kodansha has revealed three character images for the upcoming manga adaptation of Bakemonogatari, the first installment of Nisio Isin's Monogatari fantasy light novel series. The publisher's Weekly Shonen Magazine will start the manga's serialization in its 15th issue of 2018 to be released on March 14.
But the name of its illustrator has been kept secret. From today, the magazine's official Twitter will hold a campaign to make a guess at who the artist is untill the end of this month. 30 lucky people will get a reproduction of the manga arts. To join the campaign, you need to follow @shonenmagazine1, then post your guess via the blue botton on the campaign page.
西尾維新『 #化物語 』コミカライズ決定 #マガジン 15号(3/14発売)から新連載スタート!!

そこで #クイズ です…!!
漫画家は誰でしょう?#漫画化化物語漫画家 【2/28迄】https://t.co/s5AFWWfgSj

— 週刊少年マガジン公式 (@shonenmagazine1) 2018年2月13日
Source: Kodanhsa press release
©Nisio Isin "Bakemonogatari"/Kodansha