Junichi Sato (Sailor Moon, Hugtto! PreCure)'s ballet-themed fantasy anime aired in 2002-2003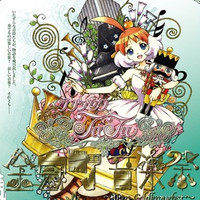 Following the Blu-ray box release last August, a special orchestra concert to commemorate the TV anime Princess Tutu's 15th anniversary, titled "Princess Tutu 15th Anniversary Concert Kinkan-cho Music Festival ~Das Goldkronefest~," is confirmed to be held at Mitaka City Public Hall in Tokyo at 17:00 on April 14.
The memorial event includes the anime music's orchestra performance by Orchester Goldkrone Akademie and a talk session by the anime's director and two main voice cast members. Kaoru Wada, the original composer of the anime's soundtrack music, will join as musical director. 9,000 yen (85 US dollars) ticket has been available at ePlus since yesterday.
The ballet-themed fantasy anime directed by Junichi Sato (Sailor Moon, Ojamajo Doremi) was aired for 26 episodes from August 2002 to May 2003, and was critically praised for its unique world setting
and dramatic use of classical music related to each episode. Sato, who is now attached with the 15th
PreCure TV series Hugtto! PreCure, will join the event along with the two main VAs: Nanae Kato (Ahiru/
Princess Tutu) and Naoki Yanagi (Mytho).
The anime's character designer/chief animation director Ikuko Ito newly drew the poster illustration below.
【ニュース】『プリンセスチュチュ』加藤奈々絵さん・矢薙直樹さんら声優陣も登壇する15周年記念コンサート開催決定! 佐藤総監督のコメントも到着 https://t.co/bUWJMb3kB8 pic.twitter.com/TpDIIGwtDA

— アニメイトタイムズ公式 (@animatetimes) 2018年2月16日
---
"Princess TuTu" Blu-ray Box (August 30, 2017 release)
via: Animate Times
© HAL, Ganges/TUTU