"Ace Attorney", "Clockwork Planet", and more head to Bluray and DVD in North America in May and June of 2018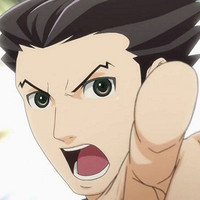 Crunchyroll and Funimation have teamed up to release a bunch of anime series on Bluray and DVD in North America, and a new batch of titles is now available for pre-order with release dates in May and June of 2018. The new releases include:
Ace Attorney - Part Two - BD/DVD Combo (release date: May 08, 2018)
What should be a joyful reunion for Phoenix and Maya goes south when someone turns up dead! While channeling a spirit, Maya is accused of killing her client. Unable to accept this truth, Phoenix takes to the stand to defend her once more. But he's got a new challenge to face in the form of Franziska von Karma—von Karma's own daughter! With the help of Maya's cousin, Pearl, can Phoenix take on the prodigy prosecutor? Or is he doomed to face the wrong end of her powerful whip? Only a foolish fool would foolishly believe the powerful von Karma could be defeated!
Then, the murder of a ringmaster turns the courtroom into a circus—literally! Just what hoops will Phoenix jump through to prove his client's innocence? And when another super hero is accused of murder, Phoenix must find out what it really means to be a defender of truth!
ALL OUT!! - Part Two - BD/DVD Combo (release date: May 15, 2018)
After proving they've got what it takes to play against stronger teams, the boys of Kanagawa High's rugby team are ready to become the best. And that means an intense summer of training and skirmishing against other schools. But before heading out to the biggest training session of the year, they worry they might lose some teammates. Will the remaining members survive X Day in tact?
When it's finally time for camp, Gion is amazed at everything—especially the other players! Every school proves a challenge with unique players and talents, but it's nothing Gion and his friends aren't ready to face. And though the weather is hot, the hotel is cramped, and their coach is working them tirelessly, the boys are ready to do what it takes to become rugby stars!
Clockwork Planet - The Complete Series - BD/DVD Combo (release date: June 26, 2018)
A thousand years after the world was rebuilt with clockwork, machine-obsessed Naoto Miura becomes the master of an automaton named RyuZU. When this beautiful piece of machinery crashed into his apartment, Naoto's superhuman hearing allowed him to fix her broken cogs—but little did he know it would land him squarely in the middle of a horrific government conspiracy! Teaming up with a pint-sized clock technician and her trusty bodyguard, they set out to fix more than just the broken gears of the world.
elDLIVE - The Complete Series - BD/DVD Combo (release date: May 15, 2018)
Middle-school student Chuta Kokonose has been hearing a voice in his head ever since he can remember.
When he finds himself recruited by the space police force known as elDLIVE, he learns that the source of the voice is a symbiotic creature living inside his body! While this alien companion can give him powers beyond his imagination, it all depends on Chuta's confidence. Between insults from his beautiful but cold-hearted teammate, a tragedy from his past that comes back to haunt him, and an entire fleet of aliens threatening all of Earth, his determination is really put to the test.
Tsugumomo - The Complete Series - BD/DVD Combo (release date: May 22, 2018)
Kazuya Kagami has always carried his late mother's obi as a memento, but when his life is threatened, he finds out that this special cloth is a tsukumogami! This is an object that develops a soul after many years, and the one in Kazuya's possession is a feisty girl named Kiriha who is ready to whip him into spirit-fighting shape.
It's time for Kazuya to handle the cursed objects that wreak havoc at his school, but first, can he even get a grip on the girls in his life?
Tsukigakirei - The Complete Series - BD/DVD Combo (release date: May 15, 2018)
Falling in love is a complicated matter, especially for third-year middle schoolers Kotarou Azumi and Akane Mizuno who live in totally different worlds. Kotarou spends most of his time writing stories in the literature club while Akane trains daily with the track team. But when a school assignment pairs them together, their relationship has a chance to blossom—that is, if they can muster up the courage to talk! As if confessing their feelings wasn't hard enough, navigating the gossip and intricacies of junior-high life won't be any easier.
Relatable and endearing, take heart in Tsukigakirei—a story of young love as beautiful as the moon.
---
Paul Chapman is the host of The Greatest Movie EVER! Podcast and GME! Anime Fun Time.