The five-episode "The Power of Four" will premiere on Cartoon Network Japan on March 3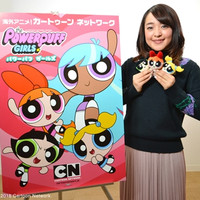 Turner Japan K.K. has confirmed that 28-year-old voice actress Megumi Han (Gon Freecss in Hunter × Hunter, Hime Shirayuki/Cure Princess in HappinessCharge PreCure!) is cast as the Japanese dub voice of Blisstina Francesca Francia Mariam Alicia Utonium, aka Bliss, the fourth Powerpuff Girl who will make her first appearance in Japan next month.
Han says, "I watched 'Powerpuff Girls' so passionately that I always came home in time for the TV broadcast in my elementary school days. When I received the offer for the role of Bliss, I was surprised first at the fact 'There is the fourth Powerpuff Girl!'(laugh). I started realizing more pleasure and actual feeling while preparing for the recording."
The five-part "The Power of Four," which was originally aired in the U.S. in September 2017, is scheduled to premiere on Cartoon Network Japan at 10:00 am on March 3.
Source: Turner Japan K.K. press release
TM & © 2018 Cartoon Network.