Sota Fukushi (Kamen Rider Fourze)-starring film hits Japanese theaters March 21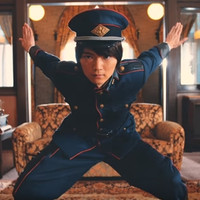 To promote the upcoming theatrical release on March 21, the official website for the live-action film adaptation of Kemuri Karakara's fantasy action manga Donten ni Warau/Laughing Under the Clouds has posted a special dance video "Donten Dance ~D.D~" featuring its theme song "Kagerou" performed by five-member Japanese rock band Sakanaction.
Five actors who play the Yamainu members in the film: Yuki Furukawa (Sousei Abeno), Shunsuke Daitou (Seiichiro Takamine), Yuta Koseki (Ren Nagayama), Tomohiro Ichikawa (Rakucho Takeda), abd Masaki Kaji (Zenzou Inukai) show their dance skills. MIKIKO, who has worked for Perfume, Babymetal, and the PreCure series' ED dances, served as choreographer.
"Donten Dance ~D.D~"
超豪華『曇天ダンス~D.D~』公開

古川さん、大東さん、小関さん、市川さん、加治さんの犲メンバーが、主題歌に合わせて華麗に踊りますっダンス経験者の古川さんは、振付にも初挑戦キレッキレのブレイクダンスも披露

5人の一糸乱れぬダンスに注目 #曇天に笑う #曇天ダンス pic.twitter.com/VYniDFvcOz

— 映画『曇天に笑う』 (@donten_movie) 2018年2月17日
---
The highly-anticipated adaptation directed by 52-year-old Katsuyuki Motohiro (Odoru Daisousasen/Bayside
Shakedown, Psycho-Pass) and starring 24-year-old Sota Fukushi (Gentaro Kisaragi in Kamen Rider Fourze)
is set for a release in Japan on March 21, 2018.
Full trailer featuring the theme song "Kagerou" by Sakanaction
Poster visual
Source: "Doenten ni Warau" live-action film official website, Twitter
© 2018 Movie "Doenten ni Warau" Production Committee
© Kemuri Karakara/Mag Garden