Long-awaited second tankobon volume with a new OAD will be available on July 19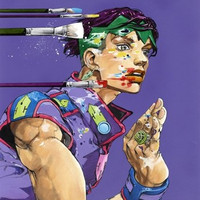 The official website for manga artist Hirohiko Araki confirmed today that the 8th episode of his Kishibe Rohan wa Ugokanai/Thus Spoke Kishibe Rohan one-shot series, titled "Episode #10 The Run," will be published in the upcoming 13th issue of Shueisha's Weekly Shonen Jump to be released in Japan on February 26.
The series has featured Rohan Kishibe as the protagonist/narrator, who was originally introduced in Araki's Jojo's Bizarre Adventure series' fourth arc Diamond wa Kudakenai/Diamond Is Unbreakable. The last 7th episode "Episode #9 D・N・A" was published in the September 2017 issue of the publisher's monthly shoujo manga magazine Bessatsu Margaret, to promote the theatrical release of the live-action film JoJo's Bizarre Adventure: Diamond Is Unbreakable Chapter I.
The lengh of the newly-drawn 8th episode is 48 pages. The site's official twitter says, the story revolves
around the secret of a man whom Rohan meets at a sport gym and features the most physical mystery in
the series.
『岸辺露伴は動かない』の最新話「エピソード#10 ザ・ラン」が週刊少年ジャンプ13号(2/26発売)に掲載ィィィィ!! 露伴がスポーツジムで出会った男の持つ秘密とは…!? シリーズ史上、最もフィジカルな怪異をお見逃しなく‼ pic.twitter.com/v5DrheWf2m

— 荒木飛呂彦公式サイト「JOJO.com」 (@araki_jojo) 2018年2月18日
In addition, following the first volume in November 2013, the long-awaited second tankobon volume
is set to be released on July 19. The volume includes "Episode #4 Mochizuki-ke no Otsukimi" (5th
episode), "Episode #7 Getsuyoubi - Tenkiame" (6th), "Episode #9 D・N・A" (7th), and "Episode #10
The Run" (8th). And its 3,500 yen special edition set includes an original anime disc based on "Episode
#2 Mutsukabezaka" from the first volume. Pre-orders will be accepted until May 16.
さらに、コミックス第2巻【アニメDVD同梱版】も同時発売!!! DVDに収録されるのは人気エピソード「六壁坂」。 予約締切は2018年5月16日(水)です!! https://t.co/C0HrbLjP23 pic.twitter.com/kpIxBNSEkj

— 荒木飛呂彦公式サイト「JOJO.com」 (@araki_jojo) 2018年2月18日
"Kishibe Rohan wa Ugokanai" 1st volume tankobon cover
Source: "Jojo's Bizarre Adventure" official portal site, Twitter
(c) LUCKY LAND COMMUNICATIONS/Shueisha