Road bicycle racing-themed TV anime's 4th season is now available on Crunchyroll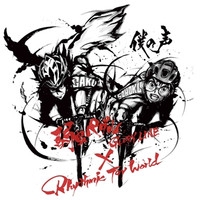 Following the anime version music video introduced early this month, four-member Japanese rock band Rhythmic Toy World has released a four-minute full version music video featuring theri performance for their third major single song "Boku no Koe" (My Voice), which is now used as the OP theme for the ongoing TV anime Yowamushi Pedal Glory Line. The CD single was already released in Japan on February 14.
"Boku no Koe" MV
Release live at Tower Records Shibuya store on February 16
『弱虫ペダル GLORY LINE』OPテーマ「僕の声」#RhythmicToyWorld リリースライブ&サイン会が終了しました!
ご来場のお客様、ありがとうございました!
特別にライブの一部をお見せします!!

楽曲詳細はこちら→ https://t.co/L5EuYSjcVy#yp_anime #弱ペダ pic.twitter.com/EqdfDSDz19

— 弱虫ペダル_アニメ (@yowapeda_anime) 2018年2月16日
Visual for the "Boku no Koe" release one-man tour to be held from March to April
【本日一般発売】
『弱虫ペダル GLORY LINE』OPテーマ「僕の声」リリースワンマンツアー

3/[email protected]下北沢GARDEN
3/[email protected]梅田Shangri-La
4/[email protected]名古屋APOLLO BASE

本日より各種プレイガイドにてチケット一般発売スタート‼️
ご購入はお早めに

公演の詳細はこちらhttps://t.co/waeGIRwiFV pic.twitter.com/Bsa2Anq5AN

— Rhythmic Toy World (@R_Toy_World) 2018年2月17日
Rhythmic Toy World artist photo
Anime version MV
Anime edition CD jacket
Artist edition CD jacket
---
The fourth season of the TV anime adaptation project based on Wataru Watanabe's sports manga
Yowamushi Pedalis now also available to Crunchyroll members worldwide except for Asia and MENA.
All of the previous three TV series are also available on Crunchyroll:
1st season: Yowamushi Pedal (38 episodes/October 2013-June 2014)
2nd season: Yowamushi Pedal Grande Road (24 episodes/October 2014-March 2015)
3rd season: Yowamushi Pedal New Generation (25 episodes/January-June 2017)
---
Source: Rhythmic Toy World official website
© BIG HIT COMPANY/STROKE RECORDS/Team Buchiggiri
© Wataru Watanabe (Akitashoten)/Yowamushi Pedal 04 Partners