The 27,000-yen kit comes with a colored paper illustrated by Yoshiyuki Sadamoto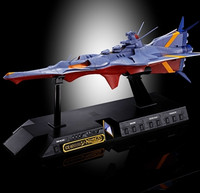 Bandai's official online store Premium Bandai today started accepting pre-orders for a new display model of the N-Nautilus warship from the Nadia: The Secret of Blue Water anime series in the early 1990s. This is the 80th item from its popular line of adult collector's toys, Chogokin Damashii/Soul of Chogokin.
The entire length of the new kit is 425 mm. All of its wings (main wings, stabilizing fins, vertical tail) can be opened and closed with sounds. Its display stand can play various music and sounds: soundtrack music (eight songs including the theme song "Blue Water"), sound effects (16 types), dialogues from the anime (nine characters). The price is 27,000 yen (about 253 US dollars). Those who pre-order the item by March 4 will also get a mini colored paper illustrated by the anime's character designer Yoshiyuki Sadamoto (Neon Genesis Evangelion).
PV
『ふしぎの海のナディア』の「N-ノーチラス号」が超合金魂に登場☆本体の発光や専用台座によるBGM等で名シーンが蘇る!早期予約特典「貞本義行氏 イラストmini色紙」も付属♪ https://t.co/MRlLoZ2WtH pic.twitter.com/QWzmznLywF

— プレミアムバンダイ (@p_bandai) 2018年2月20日
Colored paper illustrated by Yoshiyuki Sadamoto
Source: Bandai Net Strategy Division press release
(C)NHK・NEP