Their 13th single "Maboroshi Wink" ranks 9th in the Oricon daily single chart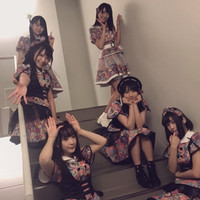 Four-member idol unit AOP (abbreviation for Anime OEN Project) was formed in September 2012 and has performed all four OP theme songs for the Osomatsu-san/Mr.Osomatsu anime series since its first season in 2015. Following the music video, they have also posted a special dance video of "Maboroshi Wink," the second OP song for the ongoing second season, for fans to dance with them.
The song "Maboroshi Wink" was recorded by the four members of AOP and the six from their sister group AOP ZERO, and two from the latter, Yuuna Asahi and Non Harusaki also joined the dance video. The CD single was released as AOP's 13th single on February 20, then ranked 9th in the Oricon's daily single chart on its first day.
"Maboroshi Wink" dance ver. clip
【本日発売「#まぼろしウインク」のダンス映像をお届け!】#A応P と #A応PZERO(旭・春咲)によるダンスです!
ぜひ振りを覚えて一緒に踊ってください!

【ダンス】TV Ver.→ https://t.co/oW1Y3Km2bz
【MV】Short Ver.→ https://t.co/udgkpysxnN
TVアニメ「 #おそ松さん」第2期第2クールOP主題歌 pic.twitter.com/54ASxJs6R4

— A応P【公式】 (@AOP_animelove) 2018年2月20日
"Maboroshi Wink" MV short ver.
Regular edition CD jacket
Animate edition CD jacket
The CD's coupling song "Mondou Muyou de Go!!" full MV
---
1st season 1st OP song "Hanamaru Pippi wa Yoi Ko dake" short MV (4th single/November 11, 2015 release)
1st season 2nd OP song "Zenryoku Batankyu" short MV (5th single/February 10, 2016)
2nd season 1st OP song "Kunshi Ayaukumo Chikouyore" short MV (12th single/November 21, 2017)
Source: AOP official website
© AT-X,inc.
© Fujio Akatsuka/Osomatsu-san Production Committee