Original anime from the creators of "Monthly Girls' Nozaki-kun" will premiere in April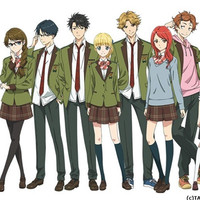 Japanese job magazine Town Works' official website is now inviting a candidate who can join a voice recording session for an episode of the upcoming TV anime Tadakun wa Koi wo Shinai as an extra character. No qualifications and previous experiences of voice acting is required.
Its daily pay is 30,000 yen (about 280 US dollars), and transportation expenses from anywhere in Japan and lodging expense will be fully paid. Your name is guaranteed to be listed as a voice cast in the ED credit of the episode. In addition, you will also get an opportunity to talk with voice actress Manaka Iwami, who is cast as the anime's main heroine Teresa Wagner, to learn about the professional voice acting works. Entries will be accepted until March 5.
The original TV anime from the creators of Monthly Girls' Nozaki-kun, including director Mitsue Yamazaki and character designer/chief animation director Junichiro Taniguchi, is set to premiere in
Japan in April 2018.
TVアニメ『多田くんは恋をしない』が #激レアバイト に登場
声優としてアフレコ収録を体験してみませんか
テレサ役 #石見舞菜香 さんからお話も聞ける!?
ぜひご応募ください!!#ただこい #tadakoi #声優
詳しくはこちらからhttps://t.co/Ie0XkcOigD pic.twitter.com/msNoIOCnOv

— 「多田くんは恋をしない」公式アカウント (@tadakoi_anime) 2018年2月20日
---
1st PV
Key visual
【公式HP】「多田くんは恋をしない」新ビジュアル公開しました!!
こちらのイラストを使った特大ボードが12月29日より開催コミックマーケット93会場内西1F登場!!
とっても大きいので是非会場でチェックしてくださいね!https://t.co/4LILjVIb8r #tadakoi #ただこい pic.twitter.com/pH7rhsENee

— 「多田くんは恋をしない」公式アカウント (@tadakoi_anime) 2017年12月28日
Main characters
【公式HP】「多田くんは恋をしない」キャラクター紹介を更新しました!
アニメ設定画、プロフィールロングver.を公開しました!!
是非チェックしてくださいね https://t.co/9DzSYAAxQ0 #tadakoi #ただこい pic.twitter.com/8w3f5ibNCY

— 「多田くんは恋をしない」公式アカウント (@tadakoi_anime) 2018年2月2日
Source: Town Works via: TV anime "Tadakun wa Koi wo Shinai" official website
©TADAKOI PARTNERS