The second spin-off film from Pretty Rhythm: Rainbow Live has earned over 500 million yen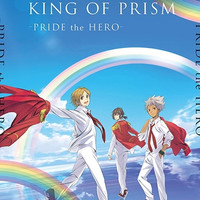 Cinetitta Kawasaki in Kanagawa Prefecture, the last theater in Japan that has been screening KING OF PRISM -PRIDE the HERO- since its release on June 10, 2017, announced today that it will finally end the film's eight-month run on March 2.
The 70-minute film's DVD/Blu-ray was already released on January 26, 2018, but the theater has not stopped showing it for passionate fans who still want to see their favorite idols on the big screen. Four screenings in the last week are set as "Cheer Screening" that fans are allowed to copsplay in the theater and freely cheer the characters on the screen.
【2/24(土)~3/2(金)『KING OF PRISM-PRIDE the HERO-』チネチッタファイナル上映決定!】昨年6月から約8ヶ月に渡った上映もついに、ついに3/2(金)で終了となります…。最後の一週間、盛り上がってまいりましょう!!#kinpri https://t.co/M4V2Y2rKRV pic.twitter.com/JtIJ4IKMpk

— チネチッタ川崎 (@cinecitta_jp) 2018年2月20日
KING OF PRISM is a spin-off series to the Pretty Rhythm: Rainbow Live TV anime (2013-2014), only featuring
male idol characters. Following the very successful first film KING OF PRISM by PrettyRhythm in early 2016,
the second film KING OF PRISM -PRIDE the HERO- was released on June 10, 2017, then earned at least 500
million yen from the 300,000 tickets sales in three months by September 3. The film's total box office gross is
expected to be reported soon after the final screening is ended.
---
"KING OF PRISM -PRIDE the HERO-" theatrical trailer
DVD/Blu-ray trailer
Poster visual
Source: Cinetitta Kawasaki
©T-ARTS/syn Sophia/Avex Pictures/Tatsunoko Production/KING OF PRISM PH Production Committee