General facilities to offer various Ninja education programs is planned to be established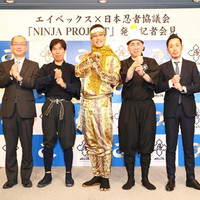 Japanese entertainment company group avex and Japan Ninja council, the world's only official organization dedicated to the culture of the Japanese Ninja, revealed their "Ninja Project" at the press conference held in Tokyo on February 22. "Pen-Pineapple-Apple-Pen" singer Pikotaro is confirmed to serve as a PR ambassador for the Asian countries.
Pikotaro's Internet hit song has swept the world since its debut in August 2016, and thanks to its international success, he has been also appointed as the promotional ambassador of the Sustainable Development Goals (SDGs) by Japan's Ministry of Foreign Affairs.
The main purpose of "Ninja Project" is to promote the culture and history of Ninja globally and to establish Ninja as entertainment. In future, the project is hoping to include general facilities to offer various Ninja education and experience programs, as well as academic business to provide the Ninja
life style. Anticipating the inbound market to be active by the 2019 Rugby World Cup and the 2020
Tokyo Olympics, exhibitions to introduce the Ninja culture and history, including live-performance
shows, are scheduled to be held in Asian countries in 2018.
ピコニンジャ!
PIKO NINJA!! pic.twitter.com/BwYtWHquqR

— ピコ太郎(PIKOTARO)(公式) (@pikotaro_ppap) 2018年2月22日
---
PR videos posted by Japan Ninja Council:
"Shinobi - Legend of the Ninja - " trailer
"Art of Ninja"
Source: avex press release, Pikotaro official Twitter