Yuzuru Shimazaki (THE STAR) also works on a spin-off manga "Another Story: Ultimate Journey"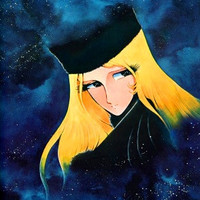 It is confirmed today that "Dream Black Hole," a newly-drawn episode of Leiji Matsumoto's long-running sci-fi fantasy manga series Galaxy Express 999 will be included in the upcoming memorial book for his 80th anniversary from Shogakukan, "Matsumoto Leiji Mugen Souzou Kidou: 80th ANNIVERSARY Chronicle." It has been 11 years since the manga's last episode "The Witch of the Planet Tunnel" published in the publisher's Big Comic in March 2007. The 208-page book is set to be released on February 28.
The 32-page new episode tells "the beginning of the never-ending journey" of Tetsuro and Maetel, who board Galaxy Express 999 to seek the mysterious "Dark Tunnel" appears in the galaxy. In addition to 999's Conductor, the two main characters of Matsumoto's manga world, Captain Harlock and Queen Emeraldas are also join the story.
Matsumoto says, "This episode is packed with dreams and hopes that have been kept in my heart
since my childhood. I wanted to express the beginning of a new journey by drawing Maetel, Harlock,
and Emeraldas, who were born from one story, heading towards an unknown world together. I draw
it with my full spirits. Please enjoy."
"Matsumoto Leiji Mugen Souzou Kidou: 80th ANNIVERSARY Chronicle" cover
New episode "Dream Black Hole" images
---
Meanwhile, 55-year-old manga artsit Yuzuru Shimazaki (THE STAR) announced on her official Twitter on
February 19 that a new spin-off manga "Galaxy Express 999 Another Story: Ultimate Journery" will start
serlaization in the next May 2018 issue of Akita Shoten's Champion RED to be released on March 19.
It is supposed to be based on Masaki Wachi's two-volume novel Galaxy Express 999 Ultimate Journey
released in 2012 and 2013. The novel told the sequel story to the 1998 film Galaxy Express 999: Eternal
Fantasy. The 60-minute film was originally produced as the first part of the trilogy, but the production of
the second and third films was cancelled due to the poor box office performance of Eternal Fantasy.
現在発売中チャンピオンRED4月号にて予告掲載❕来月より「999アルティメット ジャーニー」連載開始です。どうか、宜しくお願い致します‼️ pic.twitter.com/PKpezqMQqn

— 島崎 譲 (@yuzuru_simazaki) 2018年2月19日
Source: Mainichi, Yuzuru Shimazaki Twitter
"Matsumoto Leiji Mugen Souzou Kidou" images via: Amazon Japan,
(C) Leiji Matsumoto/Shogakukan